Dimension Films To Remake An American Werewolf In London?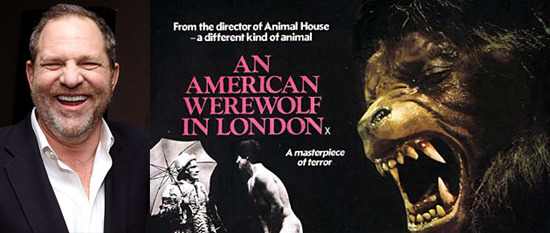 According to Bloody Disgusting, the Weinstein Brothers have purchased the rights to remake An American Werewolf in London from original writer/director John Landis. Dimension Films already has a Hellraiser remake in the works (which can't seem to keep a director on board) and has the second new Halloween film hitting theatres soon. The news that a cash-strapped Landis has sold rights to the Weinsteins (who have been reported to be equally cash-strapped, ironically) will probably cue the question that has cropped up a lot lately: is nothing sacred? The perpetual answer is: not in Hollywood, no. And that's OK, because we'll always have the original.
There's little argument against An American Werewolf in London being one of the best werewolf films ever made; I don't think I could argue that there is a better werewolf picture. The film stars David Naughton and Griffin Dunne as American backpackers who are attacked by a creature on the Yorkshire Moors. Dunne is killed, but his ghost appears to tell a recovering Laughton that they were savaged by a werewolf, and that Laughton will become a wolf at the next full moon. Laughton moves into his nurse's London apartment, and the werewolf curse reveals itself, leading to a string of dead Londoners. Landis keeps the film moving with humor and energy, and the real star of the piece is Rick Baker, whose incredible effects transformed Laughton into a wolf in a way that has yet to be surpassed. The film instigated the creation of the Makeup category at the Oscars.
Despite creating a string of great movies in the early '80s (The Kentucky Fried Movie, Animal House, The Blues Brothers, American Werewolf and Trading Places) Landis struggled to maintain a viable directing career through the late '90s, and his last features as a director hit in 1998: Susan's Plan and Blues Brothers 2000. His recent work has been on television, including a couple episodes of the ambitiously titled Masters of Horror series on Showtime that aired in '05 and '06. Ironically, Landis has been in the news for other reasons over the last few days: he directed Michael Jackson's Thriller and Black or White video clips.
Landis did not write or direct the lame, better forgotten sequel An American Werewolf in Paris, but that film goes to show that the original is bulletproof. If the Weinsteins do manage to mount a remake, we can hope that it attracts talent to make it good enough to take seriously. If not, it will be just as quickly and easily forgotten as the sequel, and we can happily continue to pretend that the Landis original is the only one.
UPDATE: Bloody Disgusting got in touch with Landis, and his statement suggests we shouldn't worry too much just yet:
Yes, Dimension is now in negotiation for the 'An American Werewolf in London' remake rights. Perhaps someone will make a brilliant movie out of it. Regardless, my film comes out on Blu-ray this summer and looks amazing. I was afraid the digital cleaning of the negative would result in too clear a picture and hurt Rick Baker's make-up, when in fact the incredibly crisp detail actually makes Rick stuff look even better!