The Boat That Rocked Goes To Focus, Gets Shorter Cut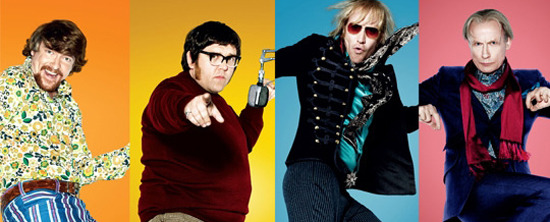 The Boat That Rocked, the latest directorial effort from Richard Curtis (Love, Actually) never looked like a stone cold comedy classic, but it has such a fun cast (Nick Frost, Philip Seymour Hoffman, Bill Nighy, Kenneth Branagh, Rhys Ifans) that it should have been a good time, at least. But reviews overseas, where the film has already been in release, have been fairly bad. Many focused on the length (129 minutes, ambitious for a comedy) and so the film may be cut by as much as 20 minutes as it moves from Universal to subsidiary Focus Features for distribution in the States.
The film is about a pirate radio station in the 1966 that operates off a tanker in the seas off the coast of the UK, to which the station broadcasts rock music twenty-four hours a day. (At the time, the BBC might have only broadcast a few hours of rock each week.) The DJs include The Count (Hoffman), Dave (Frost) and Simon (Chris O'Dowd). Egos and romantic interests clash aboad the ship as the collective's pirate radio antics predictably piss off authorities who probably have better things to worry about.
The original Universal release date was August 28; now Focus will open it later in November. "It will be a shorter, leaner version," Focus president James Schamus told Variety. "We think it is a real crowd-pleaser. We love a challenge, and we love working with Working Title." The production company and Focus have worked together before, on Atonement and Pride and Prejudice, and the relative failure of The Boat That Rocked overseas represents one of Working Title's poorer showings over the years. I have the same reaction that a lot of people do when hearing of a large chunk of film being cut from a submitted cut, but with a comedy shorter can be better; if Focus can trim ten or twenty minutes and keep all the characters intact, maybe this trick will work.
See the trailer below.