Kyle Ward To Write Sony's Uncharted Game Adaptation And Hitman 2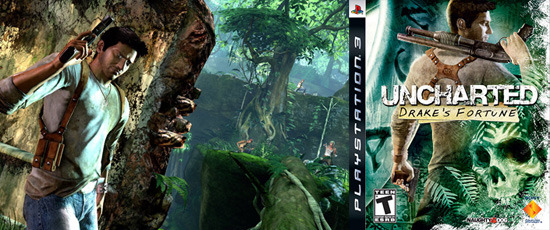 For quite some time, Sony has quietly been working to develop a film based on the PlayStation 3 game Uncharted: Drake's Fortune. Now with the game's sequel getting great press in the wake of E3 (and thanks in part to a fun multiplayer beta) Sony has dropped word that the movie is actually happening. Kyle Ward has been hired to pen the script, which makes his second video game-related announcement in two days (He's also scripting Hitman 2).
Development of Uncharted isn't a surprise, as it was explicitly designed in the first place to have the quality of a summer adventure film. The story features Nate Drake, a descendant of Sir Francis Drake. Nate is being shadowed by journalist Elena Fisher as he searches for the coffin of his forefather. When found, the object contains a diary that seems to point to El Dorado, and Nate and Elena are soon involved in a run and gun tale featuring pirates, lost gold and mutant humans. THR's coverage suggests the film will simply be called Drake's Fortune.
Ward is also on board Fox's Hitman 2, about which there is less detail available. Variety says that the film begins at the nadir of Agent 47's career, after which "he must build himself back up psychologically and physically to reclaim his mantle as the world's most feared assassin." Eidos has a new Hitman game scheduled for next year, the fifth numbered title in the series, and this script will be based in part on elements of that game.
Right now, it's easy to peg Ward as the new game-to-script guy in town. He already had Kane and Lynch set up at Lionsgate, with Bruce Willis still attached to star, and now these two new projects put him squarely in the video game corner. And while Hitman 2 likely won't be much bigger than the first film, expect Drake's Fortune to be heavily promoted as a tentpole, assuming things work out well.