Lars Von Triers Antichrist Gets October Release Dates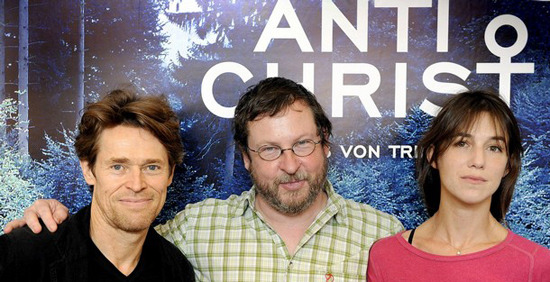 Antichrist, the new film from Lars Von Trier that divided audiences at Cannes and is even getting a video game (!?!) has been set for a late October theater bow in New York City and Los Angeles, according to Variety. IFC will release the film on the coasts on October 23, two days after an October 21 On Demand premiere.
Saying that the film 'divided audiences' at the festival is being generous. Most people seemed to hate it, but it quickly became one of those films that had writers revisiting their critical take after the fact. Has Trier created a post-modern joke just to poke at audiences, or is Antichrist really a powerful meditation on fear and tensions between men and women? Gainsbourg won the fest's Best Actress award, and IFC quickly bought the picture for distribution in the states. The company will do a platform release pattern after the Oct 23 limited opening, but Variety does not say whether or not the film will be released cut or uncut when it goes to more theatres. IFC had previously said they might only release the uncut version in LA and NYC.
Antichrist stars Willem Dafoe and Charlotte Gainsbourg as a couple who retreats to a cabin in the woods called Eden to deal with the psychological effects of a family tragedy. Things quickly get more than just psychological, as nature takes a violent role in the proceedings and the actions of both Dafoe and Gainsbourg become more extreme.Discuss: Are you looking forward to Antichrist's release? Do you plan on seeing it in theaters? When it hits DVD?