On Sponsored Posts And /Film's Editorial Policies - Update: Away We Go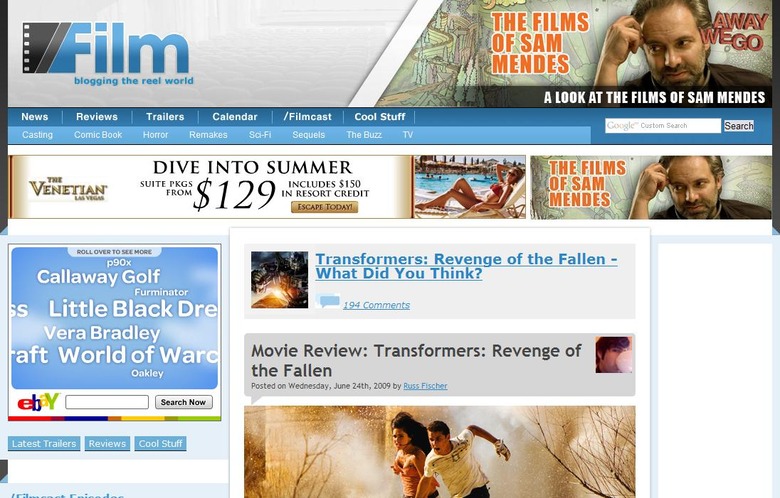 Update From Peter Sciretta:
Hey guys,
What a day... All of this went down right before I boarded a plane, and I just got to my hotel and would like to offer an additional update. I would like to say first off that I deeply regret that our actions may have cast any sort of disparaging light on Focus Features, Away We Go or the filmmakers in anyway. We along with our advertising agency, Gorilla Nation, take full responsibility for the presentation of the Sam Mendes editorial and understand that it was misleading and inappropriate. The decision to create an added value sponsored editorial was Gorilla Nation's idea and was not suggested, seen or approved by Focus Features or their Agency. And as Dave mentions below, we weren't even paid for the post itself.We came up with the idea to do the timeline/retrospective, which our ad agency, Gorilla Nation, then submitted to Focus Features. Focus was unaware that the feature would be presented as an editorial analysis written by one of /Film's staff writers. When Focus executives saw the piece,which was at the same time as our readers did, they had the same reaction as many of you in that they did not condone paid editorial. Our conversations have taken place exclusively with Gorilla Nation, and we have had no direct contact with Focus Features or their agency over this editorial. I want to make that clear.
That said, I want to reiterate what Dave said below: We have listened to the feedback from our readers and colleagues, and have decided that sponsored editorials is not something we want to be involved with. We have always been honest with you guys, even in our disclosure of the sponsored editorial, and I wouldn't want to lose the trust that we have built with you over the past few years.
Peter
Original Update from David Chen:
Earlier this morning, we put up a post on /Film that featured a brief look at the works of Sam Mendes. At the beginning of the article, we included the following text: "This post is sponsored by Focus Features – See Sam Mendes' new movie Away We Go in Theaters Now!" The wording of this preamble and what it implies has sparked criticism from both readers and colleagues, and has called into question the journalistic integrity of the site as a whole. Since Twitter and /Film comments aren't the best venues for a reasoned and elaborate discussion about these matters, I'm going to try to explain the circumstances under which this article was created, and why we made the decision to publish it. In brief, we were not paid in exchange for running that article. Details about this will follow after the jump, for those who are interested.
Before I explain any of that though, I will say that we are concerned and aware of your responses to this article. We also understand that our actions do not occur in a vacuum, that they affect other movie bloggers as well. While the realities underlying the situation are too complex to explain in one sentence, please understand that we have heard your comments and from this point on, it will be the policy of /Film not to run sponsored editorials.
Here are the basic facts: Focus Features purchased an advertising campaign on our site for "Away We Go." This campaign encompassed elements of our site that are clearly separated from editorial content as advertising. We were not paid to write an editorial about "Away We Go," but we agreed to support the advertiser by crafting an editorial relating to the director or stars of the film, provided we could exercise complete editorial control of the piece. Some options on the table were Top 10 or a Top 5 list, but we came up with the idea of a retrospective on Sam Mendes, which they agreed to. Focus Features had no editorial control over the article, and as it's clear in the article, I'm not exactly in love with every one of Mendes' films (in the past, and in the article, we've been very critical of films like Revolutionary Road), though I do admire him. To re-iterate once more, we agreed to do the article only under the circumstances that 1) We were confident it would add value to the site, 2) we'd have complete editorial control over the article, and 3) we could disclose that it was an article that was supported by Focus Features.
We have never taken money to post news content or to review a film. We would never "adjust" our opinion in response to an advertiser (See, for a recent example, our review/evisceration of The Taking of Pelham of 123, whose ads appeared on our site, but which we were highly critical of). We regret if our actions have caused you, our readers, to doubt us, but we resolve to make sure that such misunderstandings will never occur in the future. Thank you, as always, for your understanding as we continue trying to make /Film the best that it can be. Your comments and constructive remarks are welcomed in the Comments section below.