Where Exactly Will The Last Two Harry Potter Movies Be Split?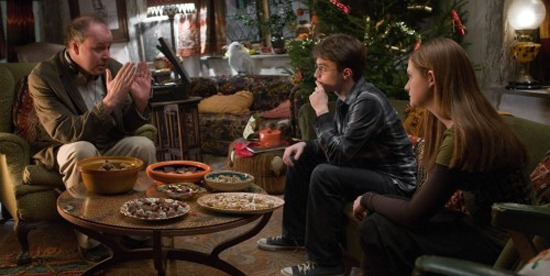 Not long ago, Brendon teased you with where in the storyline of Harry Potter and the Deathly Hallows the narrative would be split to create a cliffhanger between the seventh and eighth films. In case that wasn't enough for you, an LA Times interview with director David Yates reveals where exactly he plans to leave audiences hanging. Read more for spoilerish details.
Yates called the LA Times to update the paper on the filming of Deathly Hallows, and gave this report:
We're here in the forest, we've just finished the scene where Harry, Hermione and Ron are captured by the Snatchers after being chased through the woods. The Snatchers are brutal and scary but they aren't the most intelligent of creatures.They're trying to figure out exactly who it is they've caught.
That point, it turns out, is where he currently plans to end the seventh film, which will leave audiences with his desired cliffhanger.
Things can change when you edit, of course, but the idea now is that it will be not long after the sequence that we are filming here today. That's what we're experimenting with. We've had three or four different ideas about where to cut off the seventh film. Traditionally, the movies have ended with a death or a bereavement, some sort of passage or arrival. This time we think we will end with more a cliffhanger. Again, though, that's the thought as of this moment.
Yates also defends the notion of splitting the final book into two films; it's something he'll be repeating for the next couple years.
I will get the benefit of two budgets, the running time of two films and all the resources that brings with it to tell this huge adventure; more time, more money, more special effects. There are always things that are lost when you adapt a book to a film. With two films, much less will be lost.
Fair enough; now we just need to know what they're going to call these two films. Deathly Hallows pt. 1 and 2? Or will we get something more appropriate and/or operatic, befitting the end of the franchise?