Halloween II Movie Trailer #2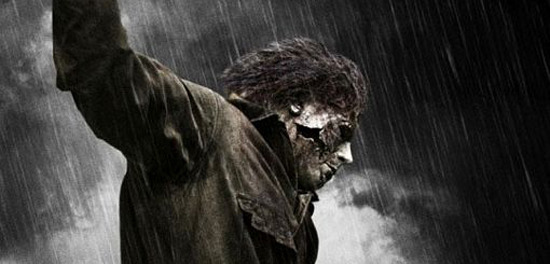 Dimension Films has released the second full trailer for Rob Zombie's Halloween II (no longer H2, thankfully) on the InterWebs and it is...well, I'm not quite sure what it is. Quite a bit of new footage is in this clip, and it's difficult to tell if it will add up to anything or not. Watch the clip after the jump.
We see quite a few things here. Michael Meyers breaking out of a van. Dr. Loomis (Malcolm McDowell) proclaiming that Mike is D.E.A.D. And a whole lot of messy family insanity, including some guy with a pumpkin on his head. It's almost like this is Rob Zombie's version of Destroy All Monsters, with elements of Friday the 13th (Mike's mommy issues, which we don't see highlighted here as much as in the previous trailer); Halloween, obviously; The Texas Chainsaw Massacre (that dinner scene with Pumpkinhead...not Stan Winston's Pumpkinhead, sadly) and a hell of a lot of screaming. Really, if this film doesn't just boil down to an hour and a half of people screaming I might be able to dig into the sheer insanity of it. I loved The Devil's Rejects and could barely stand Halloween, and this looks like an even combination of the two, so I'm left not knowing what to expect.
The basic idea for the story here is that there is a psychological connection of sorts between Michael Meyers (Tyler Mane) and his sister Laurie Strode (Scout Taylor-Compton). Laurie is realizing that Michael is her brother, and dealing with her own psychological problems. It's a film that Zombie originally said he didn't want to make, though he'd also expressed disinterest in doing any direct remakes before making the first Halloween. Evidently he was brought back with a mandate to do whatever he wanted to do, and has said that he felt free of any need to retain elements of John Carpenter's original feel and style.
[via Shock Till You Drop]