David Cross Creates UK Television Comedy With Spike Jonze And Will Arnett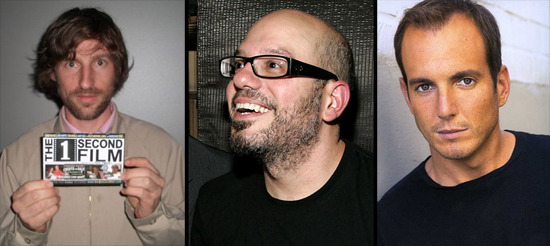 Were you let down by the so-so showing of David Cross in this weekend's Year One? Here's the antidote: Cross has written a pilot for a UK comedy show called The Increasingly Poor Decisions of Todd Margaret. His co-writer is Shaun Pye, an actor who had a recurring role in Extras. Alongside Cross, the stars of the show are Will Arnett and, in his first big acting gig since Three Kings, Spike Jonze.
The pilot was shot recently and should be finished now, as Cross said to the LA Times a week ago:
I shot a pilot for Channel 4. And it'll air, I believe, in December. When we picture-lock on Friday, it will be almost two years to the day that I was first approached by those guys. The cast is a crazy dream team.
Dream team, indeed. The plot follows a US exec who is mistakenly sent to run his company's UK arm, and finds himself way over his head. Cross stars as exec Todd Margaret, with Jonze, Arnett and Russell Tovey supporting. The idea of seeing Jonze interact with that crew is incredible, and it'll be great to see Cross in something where he's had full control. The full synopsis, as found on producer RDF Media's site, is below:
American Todd Margaret (David Cross) bluffs his way into an apparently great job opportunity, heading up the sales team in his employer's London office. All he has to do is sell several thousand energy drinks before his boss visits him in a week. Simple. Apart from the fact that he knows nothing about British culture and nothing about sales. This is further complicated when he lies continuously to cover his ignorance and spectacularly fails to impress Alice the first beautiful girl he meets. Dave his British co-worker, soon takes full advantage of Todd's situation and chaos ensues.
[via The Playlist]