Shia LaBeouf Talks Y: The Last Man; 'Absolutely' Still A Chance For The Film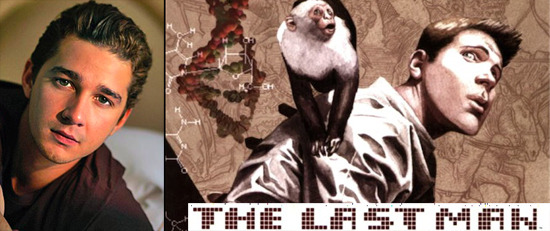 For the last couple years, director DJ Caruso and his Disturbia and Eagle Eye star Shia LaBeouf were talking about adapting Brian K Vaughn's post-apocalyptic series Y: The Last Man. It was an ambitious plan, which could have led to multiple films tackling the bulk of the sixty-issue series. Then, while promoting Transformers: Revenge of the Fallen, LaBeouf said he was backing away from Y because the character was too much like his Transformers character. But now, because rising stars almost never say they'll never do a project, LaBeouf says it could still happen.
"Y: The Last Man is my favorite comic book," said LaBeouf. "It's also DJ Caruso's favorite comic book. We DO want to make it. It's just too "Sam Witwicky"...It's not as big as a variation for me. I want to do something that's foreign." But the film isn't anywhere near being ready to go, and in fact Caruso's next picture is now said to be the seemingly superfluous Jack and the Beanstalk. But asked about whether he might do the film in a year or two, Shia predictably told Collider "Absolutely, man!" Because why would he say no?
[Brian K] Vaughn and [Carl] Ellsworth and DJ are writing the script now. The script is not ready to be shot. DJ is making a different movie right now. He's making "Jack and the Beanstalk". There's just other things going on with DJ and I wouldn't want to make the movie with anybody else because he loves it like I do. But I don't think Vaughn is trying to give it to anybody else. I think that it is something that's very realistic, it's just not in the pipe for the next year.
Y: The Last Man is about Yorick, an amateur escape artist who really isn't much like Sam Witwicky at all, who is one of two male beings left on Earth after a mysterious plague kills males of all species. The other male is Yorick's Capuchin monkey, Ampersand. The series details Yorick's journey, aided by Agent 355, to reach geneticist Allison Mann and, eventually, Yorick's girlfriend Beth. Radical politics, male impersonators and cloning play a big part as society crumbles and re-forms around the surviving female population.