Must Watch: New Trailer For The WWII Miniseries The Pacific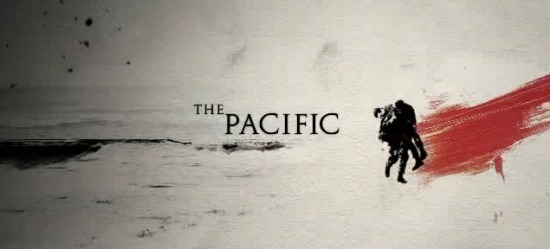 Executive produced by Steven Spielberg and from the creators of "Band of Brothers", The Pacific is a a 10-part HBO mini-series which tells the intertwined stories of three Marines, Robert Leckie (played by James Badge Dale), Eugene Sledge (Joe Mazzello) and John Basilone (Jon Seda), during America's battle with the Japanese in the Pacific during World War II. You might remember that we posted a promo trailer for the series back in March.
Produced on a reported budget of more $200 million (some have reported $250 million), and shot on location in Australia, the series follows (from an early press release) "The extraordinary experiences of these men and their fellow Marines take them from the first clash with the Japanese in the haunted jungles of Guadalcanal, through the impenetrable rain forests of Cape Gloucester, across the blasted coral strongholds of Peleliu, up the black sand terraces of Iwo Jima, through the killing fields of Okinawa, to the triumphant, yet uneasy, return home after V-J Day."
HBO has begun airing a new trailer for this epic miniseries. Watch it now after the jump, and please leave your thoughts in the comments below!
Directors include Carl Franklin (HBO's "Rome"), Jeremy Podeswa (HBO's "Six Feet Under"), Tony To (HBO's "Band of Brothers"), Tim Van Patten (HBO's "The Sopranos") and Graham Yost (HBO's "From the Earth to the Moon").
The Pacific is based on the books "With the Old Breed," by Eugene Sledge, which was hailed by historian Paul Fussell as "one of the finest memoirs to emerge from any war," and "Helmet for My Pillow," by Robert Leckie (recipient of the Marine Corps Combat Correspondents Annual Award), as well as original interviews conducted by the filmmakers. Continuing the World War II oral history work begun by his father Stephen E. Ambrose (author of the book "Band of Brothers"), Hugh Ambrose serves as a consultant on the miniseries.
The Pacific is scheduled to begin airing in March 2010.
via: Alex at FirstShowing