/Film Announcements: DISQUS Comments, Mobile Site, IE Problem Fixed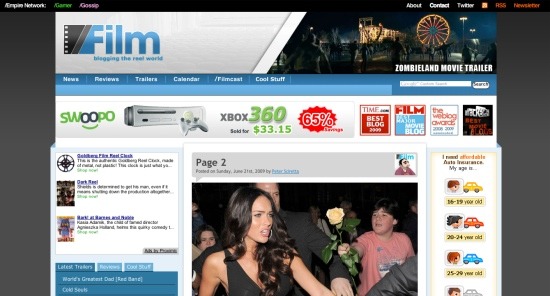 Hey everyone. I thought I'd take this time to address a couple of changes that have recently taken place on the site.
Some of you may have noticed by now that we now have a brand new comment system powered by DISQUS. We've enjoyed our relationship with Intense Debate, but we are always looking towards the best user experience for /Film readers and commenters. I believe that Disqus provides us with a lot of customization that we didn't have before (check out the Recent comments/most popular commenter sidebar feature) while promising to be a very stable solution (which was part of our reasons to switch). I recommend that any regular /Film commenter sign up for a Disqus user account, which like ID, will give you profile features, a user avatar, the ability to track your past blog conversations (over multiple sites), appear on our top monthly commenter listing and more. You can also now sign in to comment using your Twitter or Facebook accounts as well.
You might have also noticed that we've been testing a new mobile version of the site for the iPhone and iPod Touch. We're working out the kinks, so for now consider it a beta. And we've always had a mobile.slashfilm.com site available for feature-less phones.
And one big bug fix: After we launched the new design, some readers reported browser crashes when clicking through to a news post (ie Read More). The problem was only isolated to a few select versions of Internet Explorer (unfortunately, the version generally used in most workplaces was affected). I'm happy to announce that we've found a solution, and the javascript conflict will no longer crash those previously affected IE users.