Page 2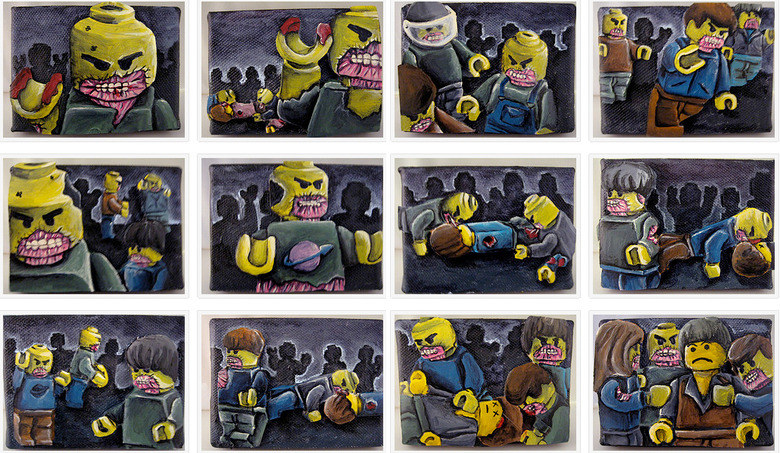 Page 2 is a compilation of stories and news tidbits, which for whatever reason, didn't make the front page of /Film. After the jump we've included 41 different items, fun images, videos, casting tidbits, articles of interest and more. It's like a mystery grab bag of movie web related goodness.
Brian Colin has painted a series of 4x3 canvases depicting Lego zombies. [boingboing]
In the past Fox has threatened to make theater chains buy their own 3D glasses, but the studio has agreed to front the bill for Ice Age: Dawn of the Dinosaurs. [latimes]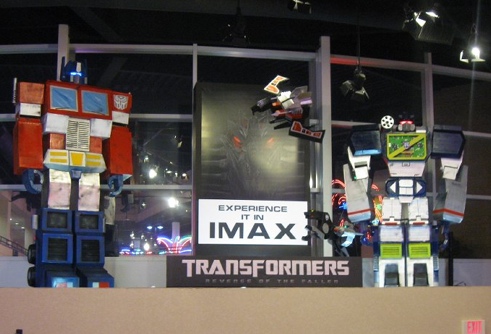 Check Out the hand-made Transformers display at Celebration Cinema IMAX Theatre in Grand Rapids, MI. [seibertron]
GoIntoTheStory takes a look at some of the slanguage used in the Hollywood trade papers.Cher has officially signed on to join Christina Aguilera in the contemporary musical Burlesque. [variety]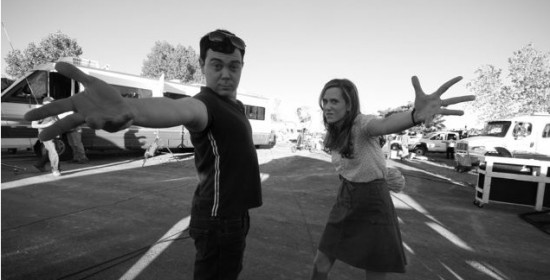 Peggster has new behind the scenes photos from the filming of Greg Motolla's Paul.Shuan of the Dead will be released on Blu-ray on September 22nd 2009. [HDD]
The trailer of Miyazaki's Ponyo will debut attached to My Sister's Keeper this weekend in theaters. [Frank Marshall]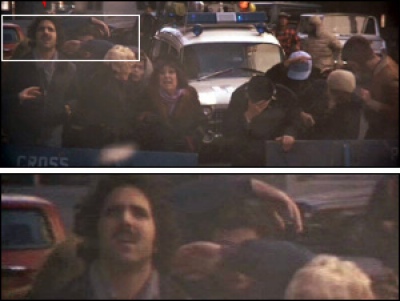 Did You Know: Porn star Ron Jeremy was an extra in the original Ghostbusters? [protoncharging]
MovieMarketingMadness talks about how digital posters will change the future of poster marketing.
Fox is going to release a Family Guy iPhone app. [variety]
To promote her new movie Paper Heart, Charlyne Yi interviews Paul Rust, her comedy partner and band-mate in the two person band, The Glass Beef. Rust spends the whole interview hitting on Yi.
A new viral game has launched for Shane Acker's 9. [firstshowing]
NBC says that despite rumors, Heroes will have creator Tim Kring and "some of the cast" at a "small panel" on Saturday at Comic-Con. [E!]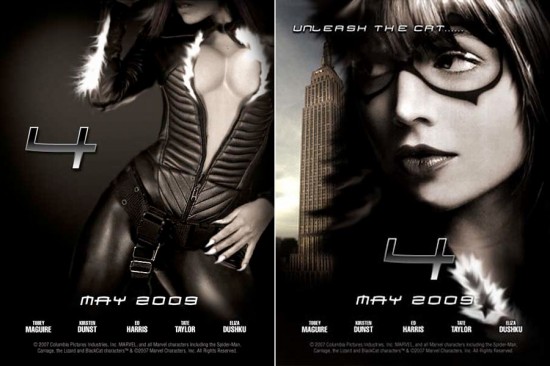 MTV has discovered these fan-made teaser posters featuring Eliza Dushku as Black Cat in Spider-Man 4.IO9 lists 8 superhero films that broke the mold.
Writer/Director Rian Johnson talks about making The Brothers Bloom on MakingOf.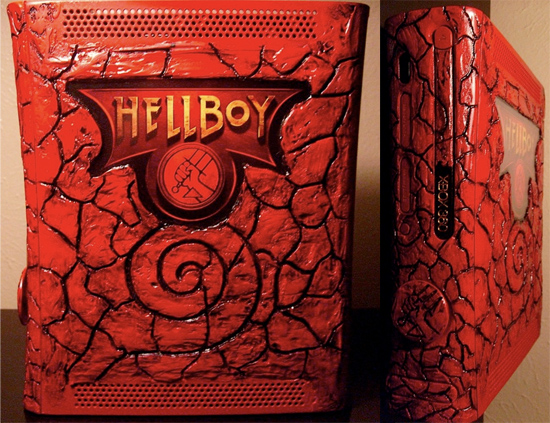 Frank Gonzales created a custom Hellboy X box 360 mod. [kotaku]
2010 Hollywood Walk of Fame honorees include: Russell Crowe, Adam Sandler, James Cameron, John Cusack, Colin Firth, Gale Anne Hurd, Alan Menken, Randy Newman, Emma Thompson, Mark Wahlberg, Bill Maher, Chris Berman, Jon Cryer, Peter Graves, Jimmy Kimmel, Julia Louis-Dreyfus and Sam Waterston. [THR]
Gizmodo takes a look at the new Buzz Lightyear robot which responds to voice commands and will be available this fall for around $130-$150.Unreality Magazine list sthe top 10 most polarizing movies of the last decade, which includes: The Fountain, Vanilla Sky, Eyes Wide Shut, The Blair Witch Project, Fahrenheit 9/11, Moulin Rouge!, The Village, Crash, A.I., and Watchmen.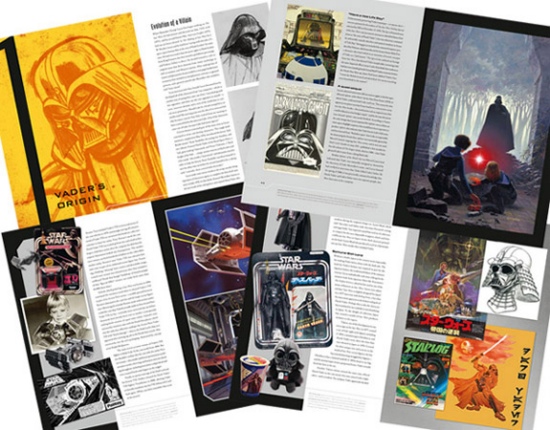 StarWars.com has a look at the upcoming The Complete Vader book by Ryder Windham and Pete Vilmur due out October 27.Jason Reitman has been updated his Twitter with the latest developments in post production on Up In The Air. Here is an interesting exchange about a song he was trying out for the soundtrack:
"I spent the day cutting to the song. It really works. I've never actually seen the other movie... but my office is giving me crap about it."
"Apparently as prevalent in the other movie as that "Bow Bow, Oh Yeah" song was in Ferris Bueller."
"Torturing myself over whether or not I can use a song that was used prominently in this mediocre remake from ten years ago."
"Screened again for small inner circle. Going to reorder the first act again. Ready? Scenes 4-14, opening titles, 15-33, 1, 34-35, 2."
"Reorder seems to work. Going to screen it this afternoon for a few friends to check. Def getting rid of the song."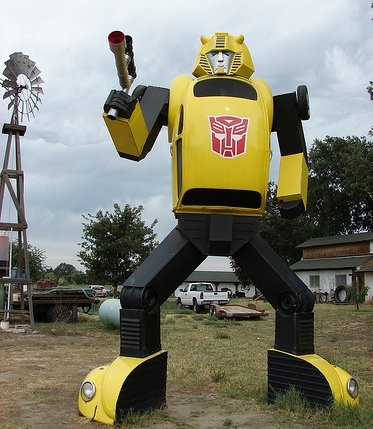 Tom Rhodes built an 18-foot-tall, 1,200-pound Bumblebee robot out of an old Volkswagen Beetle. [dvice]
Spiteful Critic has an article titled "How Star Wars, Star Trek, The Matrix, and Harry Potter are Actually the Same Movie" which is basically a simplistic step-by-step breakdown of the structure of myth and Joseph Campbell's The Heroes Journey.The Architects Journal have selected the top ten buildings from Star Wars.Michael Bay explains why he decided to include President Obama in Transformers: Revenge of the Fallen after meeting him in an airport. [michaelbay]Obsessed With Film has 50 Reasons Why Ghostbusters might be the greatest film of all time, and one reason why maybe it isn't.io9 wonders when did japan stop being the future?
TLAMB has posted a photo of the Transformers: Revenge of the Fallen advertisement on the Luxor in Las Vegas at night.
Michael Mann's The Last of the Mohicans is available for free on Hulu.
RopesofSilicon wonders if Sam Mendes's films attack the state of marriage in America?
An animatronic Luxo, Jr has premiered at Disney's Hollywood Studios in Florida. Watch a video above. [upcomingpixar]
Rotten Tomatoes talks to Antonio Banderas about his five favorite movies.FirstShowing has a good roundup of Fox Searchlight's 500 Treats of Summer promotion to promote 500 Days of Summer.

New Star Wars-themed Mr. Potato Heads will be sold at Walt Disney World in October: Chipbacca, Mashter Yoda, and C-3PotatO. [starwars]
Deckard's apartment from Blade Runner is on sale for $15 million, plus $5-$7 million to restore to building to its former glory. [moviemuser]
In the past, Al Gore and Arnold Schwarzenegger have appeared on the user-submitted/voted internet interview show Digg Dialogg. Next up is Sacha Baron Cohen who will be appearing on the show in character as Bruno. From now until Wednesday, June 24th at 12:00pm PDT, you can submit and Digg up questions to decide which will be asked.
AICN has a first look at the poster for vampire film Daybreakers.The Art of the Sequence has a wonderful interview Jim Capobianco, who created the end credit sequence for WALL-E.Scarlett Johansson's directorial debut, a short film titled The Vagabond Shows, stars Kevin Bacon, and will premiere as part of the opening night of LA Shorts Fest '09. [THR]