Robert Rodriguez And Jessica Alba Teaming Up For French Comic Book Adaptation Insiders?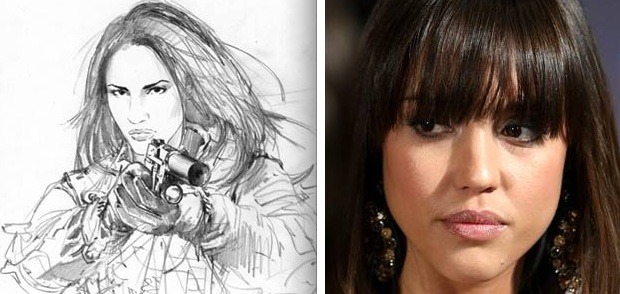 We may receive a commission on purchases made from links.
According to a report at ICv2, Jessica Alba and Robert Rodriguez have teamed up to option the French comic book series Insiders. The original source for this information appears to be the French version of Premiere.
Insiders is a spy thriller in several volumes, reportedly revolving around the female lead Najah Cruz and I'm assuming that Alba has her eye on this vaguely Dark Angel-ish role as well as the Executive Producer's seat. In the series, Cruz is a Columbian working for the White House, tasked to infiltrate and bring down a global crime syndicate.
Judging from the titles of the seven volumes of Insiders already issued, there's a whole lot of globetrotting going on: Chechnya, Afghanistan, the Kremlin, some Gulag or another, Peking. And I think that's in series order.
The strip was created by Jean-Claude Bartoll, previously an investigative journalist and also the author of the Terrorist and Mekong comics, and illustrated by Renaud Garreta.
If I were Alba and I was looking to get a movie of this series made I'd very probably turn to Rodriguez too. She witnessed his comics-adaptation skills first hand with her role in Sin City, which I'm sure was very compelling evidence.
As I said only yesterday, an option is rather far removed from a greenlight, so perhaps we shouldn't get ahead of ourselves with excitement yet. Nonetheless, I expect a good number of folk will sometime soon stop by Amazon France and see what the fuss is about.
Here's the back cover of the first volume, and below that a really bad translation of what it says down the side: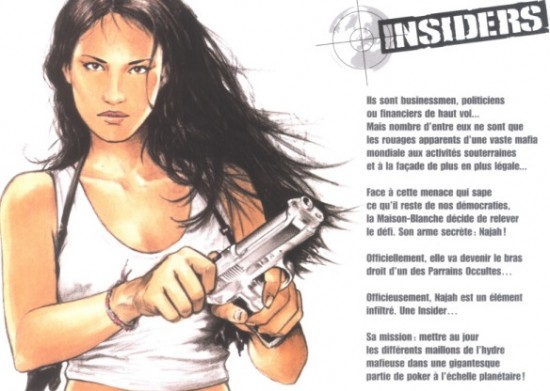 They are businessmen, politicians, or high-flying financiers... but these corporations are only the face of a vast global mafia underground. As we face a threat that undermines what remains of our democracies, the White House agrees to the challenge ... officially, it will become the right hand of a mysterious organisation. Najah is an infiltrator... her mission: to uncover the various links to the mafia hydra in a game of poker the size of the planet.