The Stepfather Remake Movie Trailer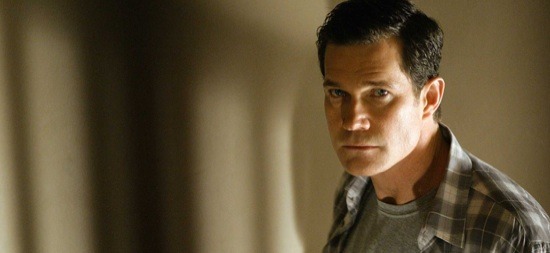 Another day, and another trailer is leaked. Yesterday, we had a surprise appearance from Whiteout and today we have Nelson McCormick's remake of The Stepfather. Last time we got to be ground zero, while today's unofficial premiere seems to have been at Bloody Disgusting. You can see the full trailer after the break.
The plot premise is essentially the same in both films. A sociopath wants more than anything to have the perfect family but each time his new wife and stepchild don't meet his (impossible to meet) requirements, he slaughters them and moves on, finds a new family and starts again. The murderin' stepdaddy in the original was played, and played brilliantly I should stress, by Terry O'Quinn, who is more lately best known as John Locke on Lost. His counterpart in the redo is Dylan Walsh who, frankly, has taken on an utterly thankless task.
Joseph Ruben's original The Stepfather film is one of the better slasher movies, if indeed you accept it is a slasher movie (I do, but I also live in a world where people persist in claiming 28 Days Later isn't a zombie film so I don't want to assume anything). On the basis of the first trailer for The Stepfather '09, this remake isn't one of the better anythings. It looks to be more Red Headed Stepson than anything else, in fact. Here's the trailer so you can judge for yourself:
Trailer removed at request from studio
The focus this time seems to be on Gossip Girl's Penn Badgley as the stepson (it was a step daughter last time, and I wouldn't say she was exactly the star of the film). Badgley's character has one of those movie girlfriends that looks like Amber Heard and spends an awful lot of time in a swimsuit, and probably only exists to be put in supposedly-titillating danger. The family also has more kids this time out, and while it makes sense that more kids should equal more kills, gorehounds should note that this will be a PG-13 picture.
Fans of the original will see some relevance in the shots of facial hair trimming, suggesting that the incredible original opening has been ported over too – I really hope it has survived the translation.
Trailer highpoints for me included the "Pit and the Pendulum Power Tool" business, the black and white flash back to the woman "from over the road" for those of you not paying attention, and the amusing photofit sketches. I really don't think that Ruben's original is about to be dethroned.
Ruben himself did a sort-of remake of The Stepfather with Sleeping With the Enemy, again matching the "stalker in the family" set up with some interesting bites into the apple pie of American domesticity.