Funny People: Adam Sandler In Re-Do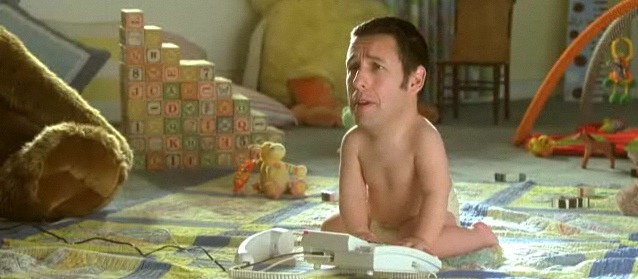 In Judd Aptow's Funny People, Adam Sandler's character George Simmons is a successful stand-up comic turned comedy star who has appeared in many shitty but successful movies. Apatow was forced to create some of the character's earlier big screen hits. Some of the films appear as posters or whatnot in the background, while others actually feature prominently on screen. One of the movies is titled Re-Do, which has been described as a cross between Little Man and 17 Again, except Sandler becomes a six month old baby. Did I mention that Justin Long co-stars?
Craig, a workaholic lawyer, never made time for his relationships. Alone and depressed on his 40th birthday, he wonders about the life he could have lead. But be careful what you wish for...you might just find yourself in diapers! When a wizard gives Craig a second chance at his youth, he discovers that sometimes it takes becoming a baby to learn how to be a man.
Check out a clip from the fake movie after the jump.
Thanks to /Film reader IanCanWoods for the tip.