Fame Movie Trailer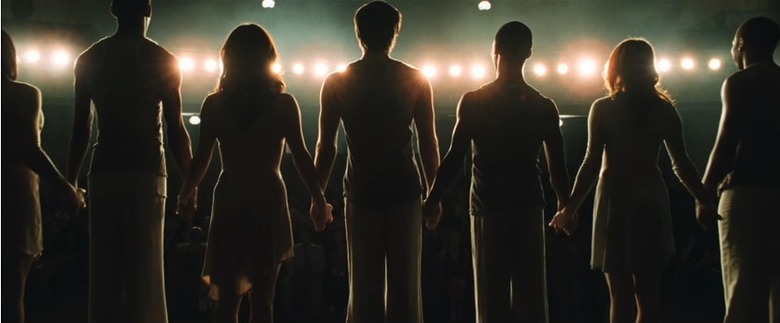 MGM has released the full trailer for Kevin Tancharoen's remake of the Oscar-winning hit musical Fame. The movie follows a talented group of dancers, singers, actors, and artists over four years at the New York City High School of Performing Arts. I'm not a huge fan of big screen musicals. I tend to like the more cinematic contemporary films which escape the boundaries of the stagey Broadway set-ups, but Fame seems to stick close to the stage. Watch the trailer after the jump and leave your thoughts in the comments below.
A diverse, creative powerhouse where students from all walks of life are given a chance to live out their dreams and achieve real and lasting fame...the kind that comes only from talent, dedication, and hard work. In an incredibly competitive atmosphere, plagued by self-doubt, each student's passion will be put to the test.  In addition to their artistic goals, they have to deal with everything else that goes along with high school, a tumultuous time full of schoolwork, deep friendships, budding romance, and self-discovery. As each student strives for his or her moment in the spotlight, they'll discover who among them has the innate talent and necessary discipline to succeed.  With the love and support of their friends and fellow artists, they'll find out who amongst them will achieve Fame...
The cast includes Asher Book as Marco, Kristy Flores as Rosie, Paul Iacono as Neil, Paul McGill as Kevin, Naturi Naughton as Denise, Kay Panabaker as Jenny, Kherington Payne as Alice, Collins Pennie as Malik, Walter Perez as Victor, and Anna Maria Perez de Tagle as Joy. Their instructors include Debbie Allen as Principal Simms, Charles S. Dutton as Alvin Dowd, Kelsey Grammer as Joel Cranston, Megan Mullally as Fran Rowan, and Bebe Neuwirth as Lynn Kraft.
Watch the trailer in High Definitiion on Apple. Fame hits theaters on September 25th 2009.