Michael Cera Has No Interest In Ghostbusters 3, Jack Black Would Bust Ghosts If He Could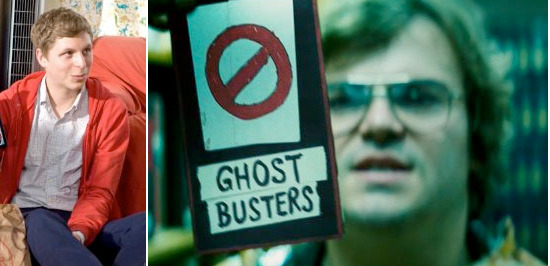 Even before a third Ghostbusters film was officially announced, I heard rumors that Year One/The Office scribes Lee Eisenberg and Gene Stupnitsky were working on a script and that they were writing a role for Year One star Michael Cera. While the details of Eisenberg and Stupnitsky's role in the project turned out to be true, and quickly spread around the world, nothing has ever been said about Cera's possible involvement.
When Moviefone asked the actor if he was interested in being involved in the Year One scribe's Ghostbusters 3, Cera was quick to squash the idea:
No. I don't think so. 'Ghostbusters' is too important for me to try and be one. I would feel like a phony. I would feel like an impostor.
On the other hand, his Year One co-star Jack Black said he'd be interested.
Could I see myself in it? Yeah, I can bust some ghosts! I ain't afraid of no ghosts! Buster. [Laughs]
Now again, this is all very speculative. There isn't even a completed script. Black asaying he would be interested does not mean that he's ever talked to Ramis, Eisenberg, Stupnitsky or anyone about the possibiliy. I want to make this clear because some sleazy news outlets are spinning Black's quote and claiming that he's been lobbying Ramis for a role in the new movie. Not so.
The above two responses are the exact opposite of what I hoped for. Cera's nerdy awkwardness seems perfectly fit for a next Generation of Ghostbusters, while Black seems like an example of what I fear Ghostbusters 3 could become. No offense to Black, I loved him in School of Rock and High Fidelity, but his loud crazy man act belongs no where near the ecto chamber. Plus we've already seen Black in a Ghostbusters remake directed by Michel Gondry. For those who don't remember, or never saw, watch the video clip embedded below from Be Kind Rewind.