Whiteout Comic-Con Promo Trailer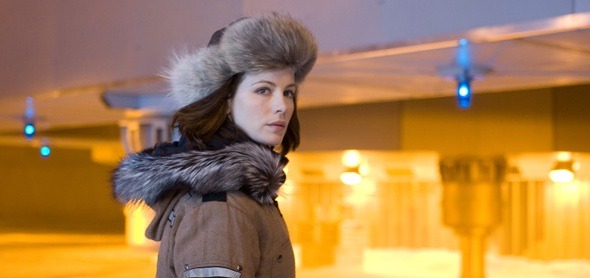 Update: For those who missed it, the Comic Con promo trailer is back online!
At long last there's a trailer for Whiteout, the adaptation of Greg Rucka's Eisner Award winning comic book series. Starring Kate Beckinsale as US Marshall Carrie Stetko and featuring The Spirit's Gabriel Macht, this is a murder mystery set in Antarctica. A mystery revolving around, as the trailer points out, the very first murder in Antarctica. This Dark Castle production was directed by Dominic Sena, previously of Swordfish and Gone in 60 Seconds disrepute... though having said all of that, I quite enjoyed this trailer. See it for yourself after the break.
[flv:http://media2.slashfilm.com/slashfilm/trailers/whiteouttrailer.flv 550 310]
Beckinsale seems to have been somewhat underused here I think. Don't the trailer manufacturers think she has even a little bit of a lure to her? I thought she was at least 25% of the reason anybody watched the Underworld films (while scratching my head about the other 75%).
Back when Sena was the director of commericals and music videos (rather than car crash films that looked like commercials or music videos) he was part of the Propaganda Films roster alongside Michael Bay, Antoine Fuqua, Spike Jonze, David Fincher, Simon West, Alex Proyas, Mark Romanek and many more. That's one heck of a club.
The story takes place at and around the McMurdo station, as referenced in The Thing, Alien and Dark Star and heavily featured in Werner Herzog's Encounters at the End of the World. Shall we just say that I'm not entirely convinced that Whiteout is going to maintain that beautiful cinematic pedigree?
The Whiteout comics series had a sequel, Whiteout: Melt that saw not only murder but mass murder come to Antarctica. At least there's something in place if this first film is a smash – not to mention the long-promised third comics run, Whiteout: Thaw which is now rumoured to be set for a debut this autumn, sometime after the movie hits in September.