Rumor: Michael Sheen In Talks To Appear As Blofeld In Bond 23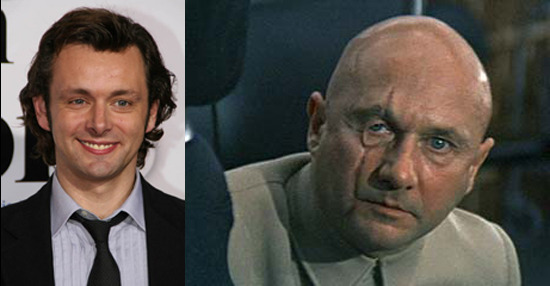 Classic James Bond villain Ernst Stavro Blofeld was supposedly killed in For Your Eyes Only. Or, at least, we last saw him plunging to what would be a demise for most people. But this is Bond, so nothing is writ in stone (as evidenced by the fact that Blofeld later appeared in the non-canonical Never Say Never Again). Now, The Guardian says that actor Michael Sheen is in talks to appear in the next Bond film as Blofeld. No great surprise that Sheen might appear in the film, as Peter Morgan was just hired to co-write. Sheen and Morgan have worked together several times in the past: in Frost/Nixon, The Queen and The Damned United. If he's going to appear in this Bond film, why not use the chance to bring back Blofeld, one of the most classic screen villains?
Ernst Stavro Blofeld is the head of SPECTRE, the organization against which Bond frequently found himself aligned. He first appeared in the novel Thunderball, then in On Her Majesty's Secret Service and You Only Live Twice. On screen, there was a time when you wouldn't actually see his face; only his hand stroking a white cat would be shown. (Yeah, Blofeld is the target of Mike Myer's Dr. Evil parody in the Austin Powers films.) Once he was fully revealed, several actors have incarnated Blofeld, notably Donald Pleasence, Charles Gray, Max von Sydow and my favorite: Telly Savalas. (I'm the guy who likes the film On Her Majesty's Secret Service.)
If Blofeld returns, does that mean we'll find that Quantum, the underground organization seen in the two Daniel Craig Bond films, will be revealed to be a subset or new aspect of SPECTRE? And would we see the established bald, scarred version of the character, or some different interpretation? Regardless, Sheen would be an excellent fit for the next Bond villain regardless of role, and I'm not concerned enough with the rules of Bond canon to be anything other than excited for the return of Blofeld.
EDIT: It's actually The Daily Express that originated this story, not The Guardian, so the lowdown is that it is likely bullshit. Very few truthful casting rumors ever come out of the British tabloid papers, so mark this one as fantasy until further notice.