Robert Rodriguez To Start Machete In Five Weeks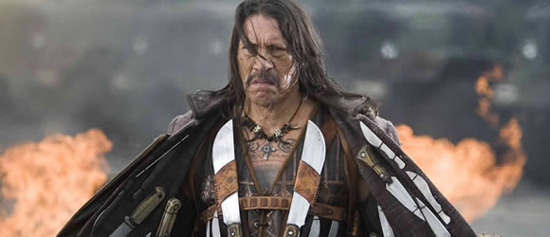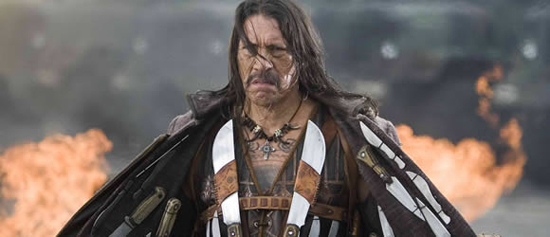 Robert Rodriguez just does whatever the hell he wants to do, it seems, and what he wants to do now is Machete. (Or, more properly, that's what he has money for right now.) That's the feature film version of the trailer that ran as part of Grindhouse, featuring Danny Trejo as a bad-ass Mexi-can who takes revenge on greedy business types. Despite recent rumors about the film actually going forward I would have bet that Nervewrackers is next, but at CineVegas last week Danny Trejo told Gordon & the Whale that the film starts production in five weeks. (As noticed by the ever-vigilant Playlist.) More details after the jump.
So not only is Machete happening, it is happening SOON, which jibes with reports we'd heard but weren't ready to believe. In mid-March Rodriguez said it was "ready to go," and he evidently meant it. Variety had previously reported that the film could be set to go as early as June of this year, and while it might actually be July, that's pretty damn close. That report also said he'd be co-directing the film with editor Ethan Maniquis. Rodriguez wrote the script a while ago, and with financing available from the aptly-titled Overnight Productions it's time to make it happen. Though I've soured on the Rodriguez style of late (OK, yeah, Planet Terror is a tasty Carpenter homage, but still) I'm hoping this will be something that invigorates him: a fast, cheap, dirty little movie about knives and violence, with a lot of off-the-cuff flesh and action.
In addition, Trejo says he is not in Sylvester Stallone's The Expendables, just in case you were still hanging on to that casting rumor. Now I'm really mad at myself for not having the cojones to go up and talk to Trejo when I saw him hanging out alone outside the Jay-Z/Eminem party/show that Activision threw at E3 two weeks ago.
The Machete trailer from Grindhouse (NSFW):