Will Hayao Miyazaki Appear At Comic-Con?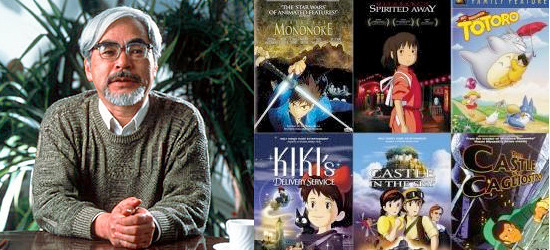 When I first heard that Legendary Japanese filmmaker Hayao Miyazaki would be making a very rare trip to North America, to my neck of the woods – the bay area, to appear, accept a prize, premiere his new film and participate in a Q & A on July 25th, I screamed out loud. It wasn't a scream of joy, like it should have been... it was a scream of annoyance. As CartoonBrew put it, Miyazaki "so rarely travels to the US, and even less so to make public appearances." And July 25th is the same weekend I'll be traveling down to San Diego for Comic Con.  In the days that followed, something occurred to me — why would Miyazaki be making an around the world trip just to appear at Berkeley?
Unless he's making the trip for a bigger reason? Miyazaki's new film Ponyo is set to be released in the United States on August 14th, opening on over 800 screens (the widest release for any Miyazaki film in America). The film will make its official premiere on June 28th as the closing night film at the LA Film Festival, which I'm now sure Miyazaki will be in attendance for.
Could it be that he'll be appearing at Comic Con as well? Producer Frank Marshall revealed on twitter that Ponyo "will have a big presence at ComicCon" which leads me to believe that Miyazaki will be appearing at Comic Con to promote the upcoming release. Comic-Con runs June 23rd to 26th, so Miyazaki could appear on Thursday, Friday or Sunday. And with a film print in hand, might we even get a sneak preview screening? I'm 99% sure (couldn't get 100% confirmation) that Mitazaki has never appeared at Comic-Con before, so this is a huge deal.
I would hope that /Film readers have seen some of Miyazaki's films, but for those of you who haven't, here are the cliff notes: Miyazaki is considered not only the Walt Disney, but also in some ways the Steven Spielberg of Japan. To give you an example of his success, Spirited Away overtook Titanic to become the highest grossing film in Japanese history. His films aren't just commercial successes but also critically acclaimed both in Japan and in America.
Spirited Away and Princess Mononoke have won Picture of the Year at the Japan Academy Prize (basically the equivalent of the Best Picture Oscar at the Academy Awards). Spirited Away also holds the honor of being the only anime film to ever win an American Academy Award. If you haven't seen any of his movies, I recommend that you run (not walk) to the store right now and buy (not rent) Spirited Away, Princess Mononoke, My Neighbor Tororo and Howl's Moving Castle.
I've embedded the Japanese trailer for Ponya below.