Justin Theroux Gets His First Studio Directing Gig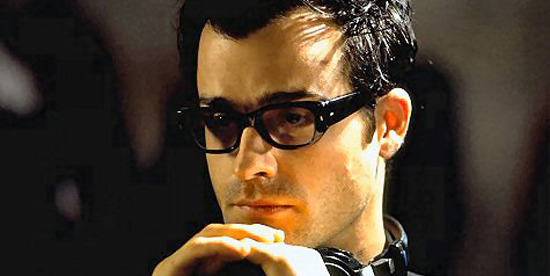 Fresh off his screenwriting gig on Iron Man 2, Variety announces that Justin Theroux has landed his second gig as director, and first for a major studio. In 2007 Theroux directed the indie Dedication, about "about a misanthropic children's book author who tries to find love with a sweet-natured illustrator". Now he'll helm a film called Chief Ron for Universal, based on the story of Chief Ron Roberts, a blonde-haired, blue-eyed chap who claimed Native American ancestry in a bid to open an east coast casino. The real Ron won out, but will Theroux? More after the jump.
The real Ron Roberts (aka Chief Golden Eagle) went to court to justify his claims of Mohegan ancestry, and campaigned to create and operate a casino and cultural center first near Albany, then in the Catskills. Funny how no one believed the blond/blue-eyed guy was Native. There's an interesting story there, though, as Roberts claimed leadership of the Western Mohegans, a tribe that was the last native group to occupy their ancestral land. Roberts became a proponent of claiming native ancestry through DNA testing. (If, for some reason, you want an academic take on the subject, it's here.)
The film, scripted by Jordan Roberts (the same guy who wrote the English narration for March of the Penguins?) will be a comedy that explicitly skews Ron as a con man. Which sounds like an unfortunate way to skew this story. If the real Roberts is a con man, he's an incredibly dedicated and very successful one. I'm surprised that this might be able to go forward if the logline is true, and the film version of Roberts is really a regular old white guy trying to make a buck by opening a casino.
(I'd originally run a thin rumor here about the Iron Man 2 script, but mentioned to Peter when I sent this for editing that he might want to kill it. He didn't, but I'm doing so now. Not because I think it is totally baseless, but because there's nothing constructive to gain from running it, especially on a day that has been rife with the G.I. Joe business.)