Jason Reitman's Up In The Air Aims For Toronto Premiere; ShadowPlay Animating Opening Title Sequence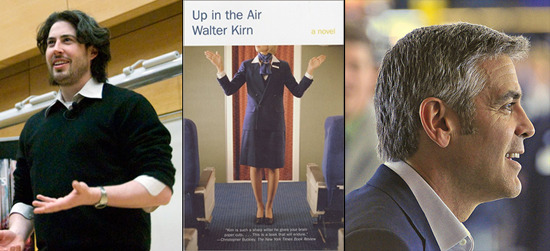 Jason Reitman, director of Thank You For Smoking and Juno, joined Twitter a few days ago to provide a few updates about his post-production work on the forthcoming Up in the Air, starring George Clooney. "A brief chronicle of my attempt to finish my film in time for the Toronto Film Festival," he calls it. (I'm continually pleased by the evolving capabilities of the Internet to allow me to observe creators at work while making me feel as is I'm working at the same time.) So while the film may well still have a December release date, it could well premiere at Toronto (editors note: or sneak premiere at Telluride), just like Juno did.
The two posts that followed had some good, if brief info. First, that he's nearly done with the first edit, which currently clocks at 2'04". (Though I generally hate even reporting this; anyone who isn't a distributor or exhibitor shouldn't care about running time before seeing the movie.) The other is that Shadowplay, the outfit that animated the titles to his first two features, is doing the same for Up in the Air.
I can see why people quickly grew tired of the twee tone of Juno's opening — I didn't, but I do understand the sentiment — but the titles to Thank You For Smoking are pretty damn great. (Both are available to view on the Shadowplay website.) Since this new film is more in the vein of Reitman's debut than Juno, I'm excited to see what the outfit comes up with. An aside: Shadowplay also completed the titles for Jennifer's Body, the new feature scripted by Juno screenwriter Diablo Cody.
[flv:http://media2.slashfilm.com/slashfilm/trailers/junointro.flv 470 250]
Up in the Air is an adaptation of the novel by Walter Kern, which focuses on Ryan Bingham (Clooney), an 'Career Transition Counselor' exec who is trying to fill his relatively empty life by accumulating one million frequent flier miles. The story satirizes corporate culture Vera Farmiga and Anna Kendrick are also in the film, as is returning Reitman player Jason Bateman