Rumor Mill: The Rock's Commando Remake? Megan Fox: Vampire Slayer? Bond 23 In Afghanistan?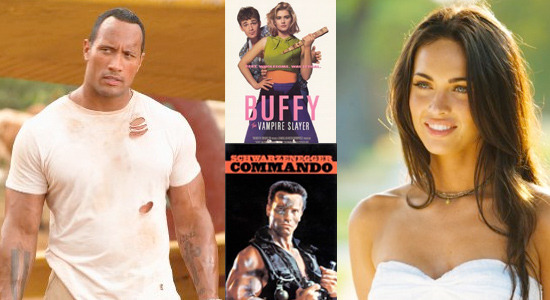 A couple rumors are circulating the interwebs this week, so I thought I'd put together a small round-up.
First up, JoBlo caught wind of an article in the Australian magazine RCI that claims a remake of the 1980's Arnold Schwarzenegger action classic Commando is being developed.  Another site, Cinefools, has also heard rumblings of a Commando reboot, with Dwayne "The Rock" Johnson rumored to star. Hollywood is rebooting all the other Schwarzenegger action films (Predator, Total Recall..etc) so why not Commando? And The Rock has long been compared as the Arnold of the next generation. Some might recall a mini "passing of the torch" in The Rundown. Mark this rumor as possible.
UK Newspaper The Guardian speculates that the 23rd James Bond film will feature "the poppy fields and drug barons of [Afghanistan]." Apparently the screenwriters of the next Bond adventure sought technical advice from the British embassy in Kabul, so its very possible.
A couple weeks ago it was announced that Buffy movie director Fran Rubel Kuzui was developing a new Buffy The Vampire Slayer film without the involvement of Buffy creator Joss Whedon. The movie would be darker, and would follow a new vampire slayer who must step up to protect this new generation. Cinefools has heard that Megan Fox's name is being thrown around by those inside the production. But honestly, even if true, that doesn't mean much at this point, especially without a script. Fox has quickly become the top star of her age demo, and is very much in demand. It seems like every other week that Fox's name is thrown around the rumor mill for some new project (Wonder Woman, Tomb Raider reboot...etc) The fact that Kuzui might be interested in her for the new film doesn't mean that she's obtainable. Mark this rumor as highly speculative at this point.