Shia LaBeouf No Longer Interested In Y: The Last Man?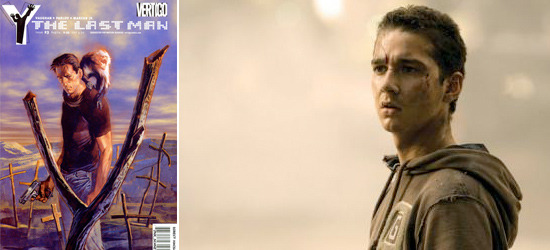 We may receive a commission on purchases made from links.
In a day of superhero overload, Brian K Vaughn's Y: The Last Man is the perfect comic book series for a Hollywood big screen (or even small screen) adaptation. If you haven't yet read the series, pick up the paperback (or the new hardcover) of the first volume, as I very highly recommend it.
Disturbia director DJ Caruso has been trying to get the project off the ground for a few years now, and Caruso's frequent star Shia LaBeouf was interested in starring in a film adaptation. A script was in development, the first in a reported trilogy of adaptations — a potential franchise. But as time has passed, so has Shia's interest. The Transformers star now tells Wizard Magazine that he's not currently willing to make the film, and he may be too old for the role by the time that the project does get greenlit.
You take Sam and you put a monkey on his shoulder," said LaBeouf . "I don't know if it's that big a differential. It seems like he's the ordinary guy in an extraordinary situation again." Much like the character of Sam in the Transformers films. He added, "I'm not willing to make that movie currently, and may be too old to play the role by the time it does come around.
But isn't that the character Shia always plays? How was Eagle Eye or Disturbia any different? The reason why LaBouf has a career is being he's good at playing "the ordinary guy in an extraordinary situation." I really don't think anyone cares to see Shia as a super-villain, in The Hobbit, or as a special ops team leader in a GI Joe sequel. He is the ordinary guy. And sadly, he is perfect for the role of Yorrick in a Y: The Last Man movie.
The other exciting thing about Shia's involvement in the project is that it pretty much guaranteed that the film would go into the production. When you have a bankable star attached to proven property, a possible franchise, studios usually jump at that kind of opportunity. But for one reason or another, it just hasn't happened. And now with Shia's departure, it seems less likely to go into production any time soon.
Y: The Last Man follows Yorick Brown, a young amateur escape artist, and his Capuchin monkey, Ampersand, the last two men on Earth. Something (speculated to be a plague) simultaneously kills every mammal possessing a Y chromosome – including embryos, fertilized eggs, and even sperm. Society is plunged into chaos as infrastructures collapse and the surviving women everywhere try to cope with the loss of the men. Yorick goes on a mission to find his girlfriend Beth, who was on vacation in Australia.
Discuss: Who would you want to play Yorrick in a big screen Y: The Last Man Movie?