This Week In DVD: Gran Torino, The International, Fired Up, And More
We may receive a commission on purchases made from links.
This Week in DVD is a column that compiles all the latest info regarding new DVD releases, sales, and exclusive deals from stores including Target, Best Buy and Fry's.Please don't take the commentary on the movies and TV shows too seriously, as they're meant not to be reviews but rather previews that include the general thoughts and ramblings of a twice-committed DVD addict. The categories represent solely the author's intentions towards the DVDs at hand, and are in no way meant to be a reflection on what he thinks other people should rent or buy. So if he ends up putting a movie you like in the "Skip it" section without having seen it, please keep in mind that the time you could spend leaving a spiteful but ultimately futile comment could instead be used for more pleasant things in life. Like buying DVDs.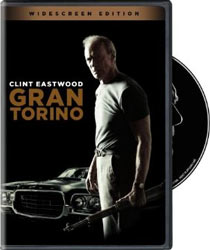 GRAN TORINOGran Torino marks a rare instance where I find myself truly baffled by the response a film has received. Hailed as one of the best films of last year, Clint Eastwood's latest work currently sits at #77 on IMDB's Top 250 and earned itself an 80% positive rating on Rotten Tomatoes. I suppose the appeal of this film is just lost on me. While I wouldn't recommend against a rental (as even I can admit that the movie is fairly entertaining), I couldn't help but be put off by how mind-numbingly formulaic, heavy-handed, and simplistic the movie is. Not to mention, just about every supporting performance is cringe-worthy, and oftentimes turned what should've been powerful scenes into moments of unintentional hilarity. What am I missing here, guys?Blu-ray? Yes.Notable Extras: 2 featurettes ("Manning the Wheel: The Meaning of Manhood As Reflected in American Car Culture", "Gran Torino: More Than A Car").
BEST PRICE
Target
Best Buy
Fry's
$15.99
Amazon – $15.99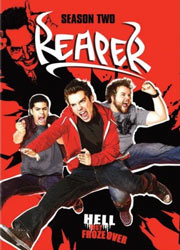 REAPER (SEASON 2)
If you haven't yet checked out the first season of Reaper, I highly recommend doing so. It's a bit repetitive at first, but once the story kicks into gear, it becomes one of the few shows out there that's managed to strike that perfect balance of action, comedy, and drama. But having only made it halfway through the show's second (and final) season before eventually forgetting to keep track of new episodes, I can't say I was quite as taken in this time around. That's not to say that the show isn't still good though. Despite a couple of lame subplots that I'm not all that eager to return to, I'm actually fairly eager to complete my viewing of the series. And for those that have already, please answer me this: does the finale satisfy?
Blu-ray? No.Notable Extras: Commentaries with the show cast, deleted scenes, and a gag reel.
BEST PRICE
Target
Best Buy
Fry's
N/A
$29.99
N/A
Amazon – $29.99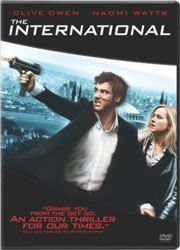 THE INTERNATIONALTom Tykwer (Run Lola Run, Perfume) is a fantastic director, but even his slick, energetic style isn't enough to save The International from the aggressively dull, silly, trite and poorly plotted story at its core. The film's sole redeeming quality is an incredible shoot-out in the Guggenheim, so if you're really desperate to check out that one sequence, it may be worth a Netflix rental. Or alternatively, I can save you the trouble.Blu-ray? Yes.Notable Extras: Commentary with director Tom Tykwer and writer Eric Singer, 4 featurettes ("The Making of The International", "Shooting at the Guggenheim", "The Autostadt", "The Architecture of The International"), and deleted scenes.
BEST PRICE
Target
Best Buy
Fry's
$16.99
$17.99
N/A
Amazon – $16.99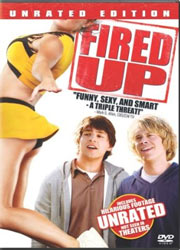 FIRED UP
I have to say, I'm rather surprised by how positive the reviews are for this film. Out of a total of 80 reviews, 22 of them were positive. That's a whopping 22 more than I expected! Impressive!
Blu-ray? Yes.Notable Extras: Commentary with director Will Gluck and stars Nick D'Agosto and Eric Christian Olsen, 2 featurettes ("The is Not a Cheerleading Movie: The Making-of Fired Up!", "Double Duty"), an uncensored gag reel, and a Backstage at the Fired Up! press junket feature.
BEST PRICE
Target
Best Buy
Fry's
$19.99
Amazon – $19.99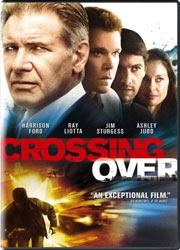 CROSSING OVER
Even since Running Scared and The Cooler, Wayne Kramer has been high on my list of "must watch" up-and-coming directors. Both of those films were (and continue to be) seriously underrated, and showed signs of a man sure to go on to do great things. Crossing Over, sadly, is not one of them. At least not according to the devastatingly negative reviews. Seriously, did we need another depressing multi-character/interconnecting storyline piece ala Crash and Babel? No, we really didn't. Better luck next time, Kramer. I haven't lost hope.
Blu-ray? No.Notable Extras: None.
BEST PRICE
Target
Best Buy
Fry's
N/A
$14.99
N/A
Amazon – $13.99
Other noteworthy DVDs available this week...The Shield (Season 7) – Were the World Mine – Woodstock: 3 Days of Peace & Music Director's Cut (40th Anniversary Ultimate Collector's Edition)

NOTE: Some deals may be in-store only.

Exclusive: Woodstock Ultimate Collector's Edition DVD set with exclusive never-before-seen performances by Jimi Hendrix, The Who and Canned Heat ($42.99).$13.99 – It's Always Sunny in Philadelphia (Season 1 – 3), Weeds (Season 1 – 3), Psych (Season 1 or 2), Seinfeld (Season 1 – 9), The Simpsons (Season 10)$18.99 – Entourage (Season 1 – 4), Dexter (Season 1 or 2), Mad Men (Season 1), 30 Rock (Season 2), The Tudors (Season 1 or 2)

$12.99 – The Simpsons (Season 11), How I Met Your Mother (Season 3), Arrested Development (Season 2), Prison Break (Season 3), Burn Notice (Season 1), My Name is Earl (Season 3), Family Guy (Vol. 6), It's Always Sunny in Philadelphia (Season 3)