First Look: Trick 'R Treat Graphic Novel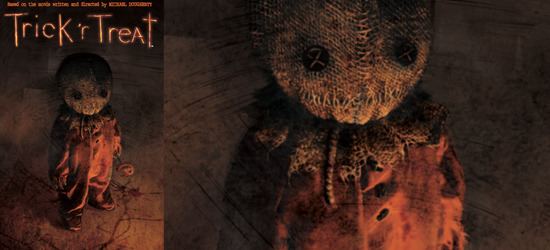 Michael Dougherty (X2, Superman Returns) announced at Fangoria's Weekend of Horrors that WildStorm Comics would be releasing a graphic novel adaptation of Trick 'R Treat on October 7th. Dougherty tells /Film:
I grew up on old horror comics, and they were a huge inspiration for Trick 'r Treat, so it's been great working with DC and WildStorm to keep the anthology genre alive while also giving people a sneak peek at some of the twisted fun they'll see in the movie.
Written by Marc Andreyko (Manhunter, Torso), featuring art by Mike Huddleston (Man-Bat, Gen 13), Grant Bond, Christopher Gugliotti (Texas Chainsaw Massacre) and Fiona Staples (North 40), and a cover designed by Breehn Burns. We have an EXCLUSIVE first look at the cover (above) and first five pages (avaialble after the jump), art by Fiona Staples.
The graphic novel will hit store shelves on October 7th, and the movie will be released on DVD/Blu-ray this Halloween.