Masi Oka Creates Massively Multiplayer Movie The Defenders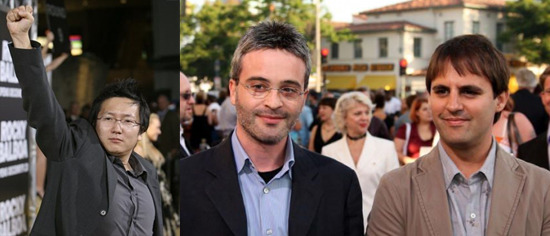 Masi Oka, Heroes star and big World of Warcraft fan, has come up with a story called The Defenders, about gamers who have to become real-world heroes, and Dreamworks has bought it. The project will be produced by Alex Kurtzman and Roberto Orci, and DJ Caruso is in talks to direct. (He last directed the Kurtzman/Orci produced Eagle Eye.) How do you make a multiplayer game-inspired movie that isn't just a vague rehash of The Last Starfighter and Ender's Game? Answer after the jump.THR reports that the story is about a bunch of gamers, mostly teenagers, who live all over the world but are united in the world of a massively multiplayer online (MMO) game like World of Warcraft. A real adventure brings them together and makes them into heroes as they have to live up to the characters they've created in the online world. OK, good starting point, but it's got shades of the Underpants Gnome scheme: step one is the idea, step three is the movie. But step two, which should be the script? Empty question marks so far.Gary Whitta (The Book of Eli, the in-development Akira adaptation) is writing. Like Oka, he's a big MMO player, which is probably a good sign, though with the combined sensibilities of he and Oka (i.e. dedicated gamers) and Kurtzman and Orci (i.e. setpiece lovers) there's reason for concern that this will be just a big slam-bang mess. Where's the balance? Kurtzman and Orci are really trying to capture the old Amblin Entertainment vibe — essentially they want to make a bunch of movies like The Goonies, and Oka shares the same desire. Think innocence plus adventure.
The trade also reports that Dreamworks is planning to develop a game in parallel with the feature, which means we're two years out, at least. Anything less means they're developing a shitty game alongside the feature. And the further question: will the game be an MMO? Let's hope not, as that's a short road to disaster if so.