Clive Barker's Twitter Feed Brings Hellraiser And Nightbreed News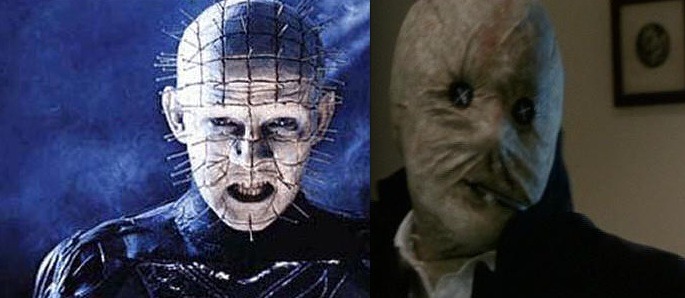 It seems that rasp-voiced cigar-hog Clive Barker has been posting to Twitter under the name RealCliveBarker, and posting good stuff too. In just the last few days, he's managed to spark up two very interesting flames. First, the good news: It seems that all of the missing footage from Nightbreed has been tracked down, safe and sound, and a director's cut is now a possibility. Now, the bad news: Barker has also reported that Martyrs director Pascal Laugier is off of the Hellraiser remake. More details on both of these stories after the break.
Here's the deal with Nightbreed in chronological tweets:
Morgan Creek has all the missing reels of NIGHTBREED.All the stuff they cut out and all that was lost to the MPAA.
NIGHTBREED will always be "that dumb movie where Barker tries to make the monsters the good guys because he's queer. '
On Nightbreed. A wonderful friend of mine.Mark Miller, has located all the missing footage. Everything,it seems.
Problem now is to convince the head of Morgan Creek to spend some money putting it all back together.
His name's Jim Robinson. He says nobody gives a damn about Nightbreed.
And, so, we know what to do. If we want a director's cut of Nightbreed on DVD, we have to let this Jim Robinson know. I should imagine lighting up the Morgan Creek switchboard like an X-mas tree would be an attention grabber, or a mail box full of sensible, intelligently written letters. Contact details for the company are available at the foot of their (ugly and information-light) website.Here's the Twitter-tale of Pascal Lauguer and Hellraiser:
Pascal Laugier is regrettably no longer on the Hellraiser remake. Ithink Martyrs is extraordinary.
I don't know much more. I mean why would anyone tell me? I mostly discover these things here or through friends who still buy the trades.
Sorry,did that sound cynical? Yeah? Good.
The Hellraiser remake hits yet another stretch of choppy waters. Those Weinstein fellas really are the perfect storm.I'm not too sure about Barker's skills as a filmmaker at all but he's definitely got a strong sense of story and seems to bleed powerful ideas. He made a great match with Laugier. Yet again, Bob and Harvey seem to have turned their back on artists to clink glasses with accountants.