New Marvel Movie Logos And Scott Pilgrim Vs. The World Teaser Poster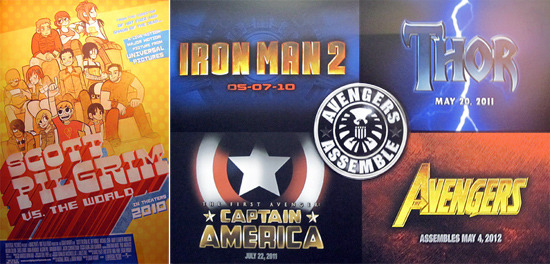 A bunch of cool artwork is on display at the Las Vegas Licensing International Expo, including the first promotional poster for Edgar Wright's big screen adaptation of Scott Pilgrim vs. The World, and updated logos for the four upcoming Marvel productions: Iron Man 2, Thor, The First Avenger: Captain America and The Avengers which have popped up over at AICN.
I've cleaned up the photos of the Marvel logos and Scott Pilgrim poster (corrected aspect, color corrected, sharpened...etc) and have included them after the jump. Head on over to AICN for the original higher resolution snapshots. They also have snaps of posters for Gore Verbinski's animated Rango starring Johnny Depp, DreamWorks Animation's How To Train Your Dragon, and Steve Carell's Despicable Me. Head on over to AICN for more.