Sigourney Weaver Joins Greg Mottola's Paul?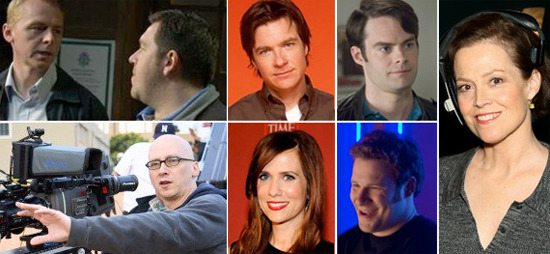 Just when I thought the cast of the sci-fi buddy comedy Paul couldn't get any better, word comes along from SDNN (via The Playlist) that the first lady of sci-fi has joined the cast of Superbad/Adventureland director Greg Mottola's next film. That's right.... Sigourney Weaver, who played Ripley in the Alien films, Dana Barrett in the Ghostbusters series, Gwen DeMarco in the underrated Galaxy Quest and the ship's computer in WALL-E. Weaver will join Simon Pegg, Nick Frost, Seth Rogen, Jason Bateman, and Kristen Wiig.
Scripted by Pegg and Frost (the duo from Shaun of the Dead and Hot Fuzz), the story follows two British nerds, fresh off a trip to Comic Con, who decide to go on a road trip to Area 51. They meet an alien named Paul, voiced by Rogen, who asks them to help him escape from the U.S. Government. On the run from a government agent named Lorenzo Zoil (Jason Bateman), the trio accidentally kidnap a young Christian girl (Kristen Wiig) and pay a visit to an old "crackpot" woman (possibly Weaver?) who not only claims to have witnessed Paul's crash landing, but even pulled him out of the ship.