Bryan Singer Fancies Another Go At The X-Men And Superman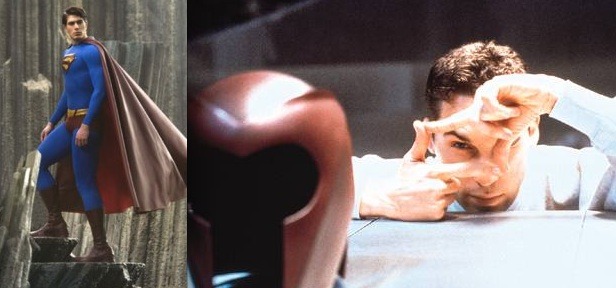 Total Film has an interview with Bryan Singer in their latest issue to promote the UK release of Valkyrie on DVD and Blu-Ray. Inevitably, the conversation turned to the two big superhero franchise he's already contributed to – Superman and X-Men. His quotes on both are after the break.
Let's tidy up the Superman business first. Here's Singer on the perennial gossip that he's going to step back up for a sequel to Superman Returns:
I don't know, I don't know. There are still issues. I just don't know. I don't necessarily...I don't know. It's one of those things where...It's so weird talking about stuff unless I'm about to ramp up and shoot it.
Sounds to me like he's still involved with the prospective film in some capacity, perhaps only in fighting the studio to give him another shot? Could he be developing a potential approach for their approval? This quote is definitely not the talk of a man walking away, back turned to the franchise forever.
Perhaps more surprisingly, Singer also suggests he'd like to return to the X-Men series too:
I'm eternally intertwined with X-Men now. What takes an audience four hours to watch – the first two movies – took six years of my life. So, to not be part of it....It's a shame. It's weird for me to watch [The Last Stand] because I'm so close to the universe. And also Brett is a good friend of mine. But, of course, I would love to return to that universe.
Singer and Ratner are good friends? That's bound to generate some discussion. Anyways... would this 'retrun to that universe' be for the Magneto prequel?
The only thing that concerns me about Magneto is that if the prequel were to follow the track I used in X-Men, which is Magneto's history in the concentration camp, then I've lived in that world. Apt Pupil, X-Men and now Valkyrie... I've lived in that Nazi universe for quite a while. I just might need to take a little break before I do something like that.
Now, either Total Film didn't ask about X-Men: First Class, Singer wouldn't comment or he only commented off the record. I'm not really sure what the intent is with that film, and I suspect it wouldn't be an ideal match for Singer's inherently serious approach, tending more to the humorous, or at least light hearted. All the same, I'd like to be surprised – either by a serious First Class or a funny-bone tickling Singer.
Via The Geek Files.