Sonnenfeld And Grabinski Reteam For Swift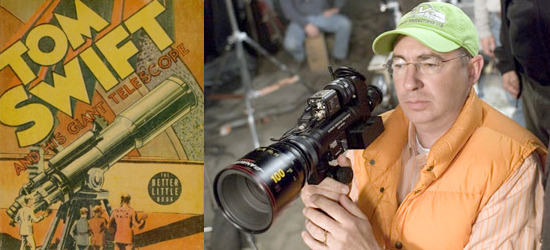 Last year it was announced that Barry Sonnenfeld (Men in Black, Get Shorty, Pushing Daisies) had signed on to direct The How-To Guide for Saving the World, a much buzzed about sci-fi action comedy screenplay which appeared on the 2008 Black List. I'm not sure the status of the project, but Sonnenfeld has again teamed up with Saving the World scribe BenDavid Grabinski to develop Swift, a big screen reimagining of the Tom Swift adventure novels.
Published under the pseudonym Victor Appleton , the books told the story of a young inventor named Tom Swift, who used his genius-level knowledge of inventing in his many adventures — which total over a hundred volumes in all. Grabinski's pitch reimagines Swift as "one-half of a father-son team who are among the greatest inventors of all time." I've never read any of the Tom Swift novels, so I'm not sure I completely grasp the concept. But from what I gather it seems like the inventor version of the Young Indiana Jones series. I've read a sizable chunk of Grabinski's How-To Guide, which I enjoyed, and I'd much rather see that project go into production.
Hollywood has been trying to make a Tom Swift movie for almost a century now. At one point a television pilot was produced, but never aired due to legal problems. In the late-1960's Gene Kelly was signed to direct a musical adaptation for Twentieth Century Fox, but the project was dumped after the poor reception of Dr. Doolittle.
source: Variety