Aqua Teen Hunger Force's Live-Action Season Finale This Sunday...With T-Pain As Frylock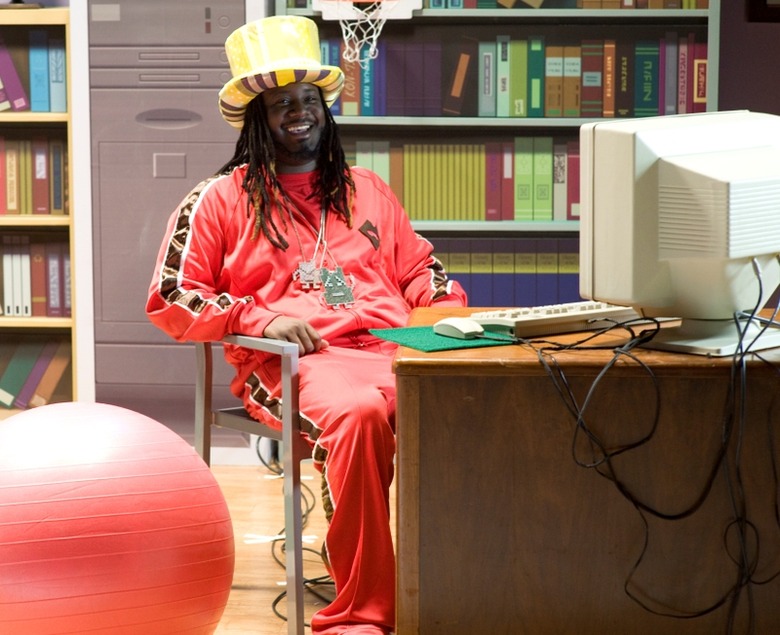 Post-Finale Update: So that was delectably epic.
This Sunday at 11: 45 p.m. ET, the rolling, clueless glob better known as Meatwad enters our Meatspace. Sort of. He'll appear as, erm, an exercise ball, as seen above. In celebration of the season finale, Aqua Teen Hunger Force is airing its first ever live-action episode during its six seasons on [adult swim]. Vocoder rapper, T-Pain, will portray Frylock, the show's patient, levitating box of French fries. Red Alert: TP's neck blingee features Mooninites. This fall, T-Pain will also play The Ghost of Spring Break, alongside Lil' Wayne, Andy Samberg, and Rick Ross, on the [adult swim] special The Return of Freaknik, an animated ode to Atlanta's infamous ass-bash. Check out the rude and ridic trailer.
Rounding out the cast for Sunday's Force is cool comedian H. Jon Benjamin (Human Giant, Demitri Martin) as Master Shake and possibly our fave: open audition-winner, Dave Long Jr., as the wife-beater-lovin' human disgrace known as Carl Brutananadilewski. Pictures and the esoteric episode synopsis after the jump...
Plot Synopsis: T-Pain, Jon Benjamin and Dave Long Jr. star in the first-ever live-action episode of 

Aqua Teen Hunger Force

.  All hell breaks loose when the animated Aqua Teens find out there's fire in the water.  As each member begins to burst into flames, the episode takes an abrupt turn when Master Shake's live-action alter ego, Don Shake, can't figure out how to finish the episode's script.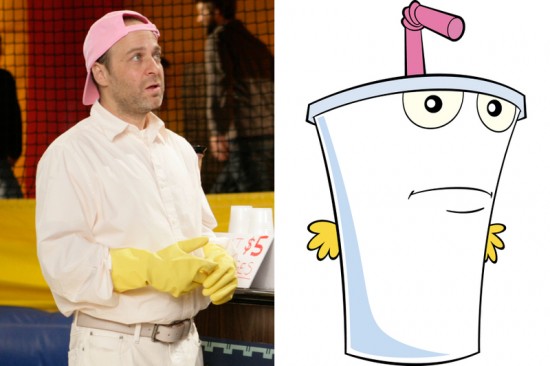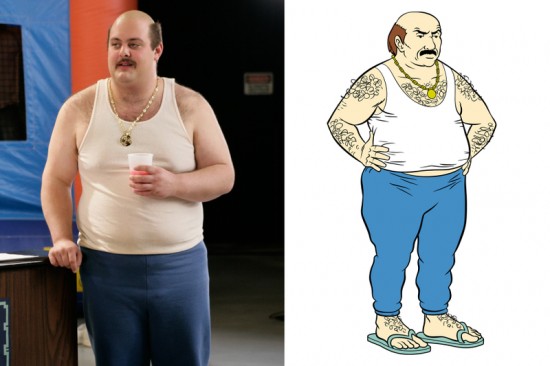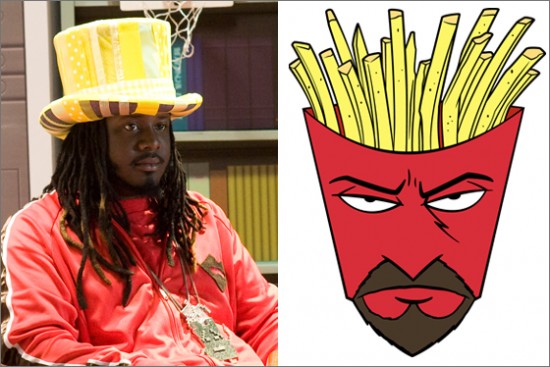 Also, if you weren't luck enough to attend—like us! /Film tried, really!—the [adult swim] Upfront party in New York earlier this month, you can find a gallery of photos here. The gist: T-Pain performed live at the Nokia Theater—practically a given at this point—the Pabst was plentiful, there was a "Wacky Gator" game, and questionable food courtesy of Carl's Nutz-and-Weinerz ("wiener" misspelling their's/Steve-O's).
At the end of this trailer, you'll find a breakdown of Upfront announcements about returning shows, new acquisitions (The Office UK), and new shows like Frankenhole.