Weeds Season 5 Trailer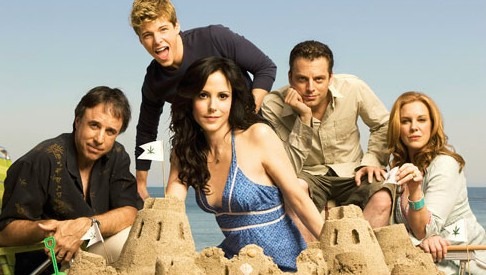 Note: This post contains spoilers from the prior season. With the season finale of AMC's crystal-meth drama, Breaking Bad, airing this Sunday, the season premiere of Showtime's Weeds arrives right in time to [insert a tired pun for TV addiction]. Scheduled for June 8th, season five finds Mary Louise Parker's drug-dealing California mom/widow, Nancy Botwin, pregnant with the child of Esteban (Che's Demián Bichir). In keeping with Nancy's breezy who-needs-a-plan-or-a-401K style, the baby was a surprise. That would be fine if Esteban, a mayor in Mexico, wasn't a control-freak lording over an elaborate black market of cocaine, firearms and human traffic.
Oh yeah, and Nancy and Esteban both know that she narc'd on his operation to the DEA, so the baby may or may not be her lifeline. In an unexpected bit of casting, Alanis Morrissette, will play her obstetrician in more than half the episodes this season. The latest promo trailer is after the break. It emphasizes the long-going mixture of gritty dead-end plotlines and la-la-la grace and humor that makes Weeds enticing and fun, yet famously imbalanced.
H/T BSLS