Chevy Chase Joins Hot Tub Time Machine; Considering Fletch Reboot/Sequel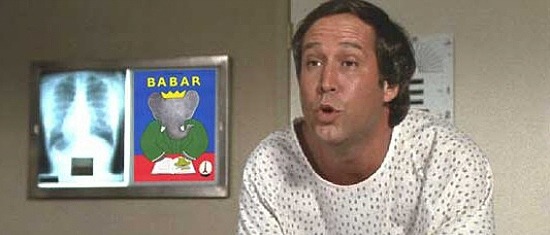 Chevy Chase has joined the cast of United Artist's R-Rated sci-fi comedy Hot Tub Time Machine. The Steve Pink-directed, Josh Heald-scripted film tells the story of a group of guys (John Cusack, Rob Corddry, and Craig Robinson) who return to the hot tub they once partied in, only to discover it is a time machine that allows them to go back in time to their "days of glory."We've heard many good things about the script.
Case will play a seemingly crazy repairman who might be the only one who can held the trio return to the present day. THR says that the character "dispenses pearls of wisdom and may or may not be behind the metaphysical road trip."
The article goes on to say that Chase is currently considering reprise the role of Irwin "Fletch" Fletcher in a reboot of the Fletch movie series. Apparently The Weinstein Co has a new script which would involve a semi-returned Fletch passing the torch to his journalist nephew, and advising him on his stories. Sounds like a rather lame way of including Chase in the project.
A new Fletch movie has been in the works for years. First set up with Kevin Smith, who wanted a pre-My Name is Earl Jason Lee to play the iconic role in a prequel based on the book Fletch Won. Weinstein failed to believe that Lee could be a star, and Smith passed on directing the project.
Weinstein hired Scrubs creator Bill Lawrence and star Zack Braff, who was just coming off the hot indie flick Garden State and the popular Scrubs television series. Smith's script, which was a closer adaptation of the novels, was dumped in favor of something closer to the tone of the original campy Chevy Chase films.
And then somehow Accepted director Steve Pink and Dawsons Creek star Joshua Jackson entered the mix. Those of you who actually read the second sentence of this story will recognize Pink's name, as he is also the director of Hot Tub Time Machine. Coincidence? Not likely.