Funny People Viral Marketing: Yo Teach!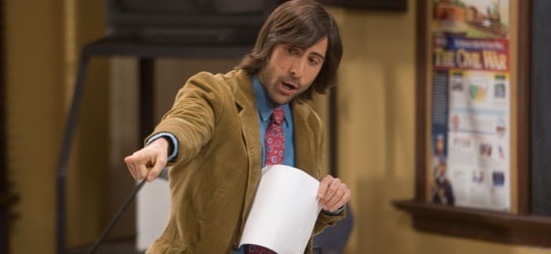 What I expect will be a sprawling viral marketing campaign for Judd Apatow's Funny People has kicked off with a fake website for the just as fake sitcom Yo Teach. Starring Jason Schwartzman as Mark Taylor Jackson as Mr. Bradford (if you know what I mean) the show is very much in the vein of Head of the Class, Hanging With Mr. Cooper or Saved By the Bell and almost precisely as funny. The site contains a scene from the sitcom, a similarly fake EPK video, photos and all manner of other bunkum. Perhaps the best detail is that NBC are hosting the pages in such a way that they look entirely genuine. I'm not sure how funny any of this is, but it's certainly got me a little creeped out with its authenticity.
There's scope for a frightening amount of 'alternate reality marketing' with Funny People. Many of the lead characters are involved in the entertainment industry, from TV to cinema to the stand up circuit. Indeed, the Night of Funny People comedy show which saw many of the cast performing sets in character, while being filmed for the movie, was the first opening into this world available to the public.
Creating this kind of fastidiously conceived, rigorously executed parallel universe is tricky stuff. Apatow tried before, with director Jake Kasdan, for their hugely undervalued collaboration on The TV Set. This time, though, the details seems even finer, even more acutely observed. I'm very impressed. But still not sure if I think it's funny.
One of the kids in the sitcom class is Bo Burnham, who made with the funny tunes on YouTube and got his own Comedy Central special and, coming soon, a comedy-and-rock-music feature film that he's writing and Judd Apatow is producing. I'm still digging for more info on that one... got any?
How much of the Funny People supplementary material will ever make it into the hands of the public I wouldn't like to guess but I've got a felling that a 2 disc DVD set won't have anything like enough capacity. Is Judd Apatow turning into Caden Cotard?