Page 2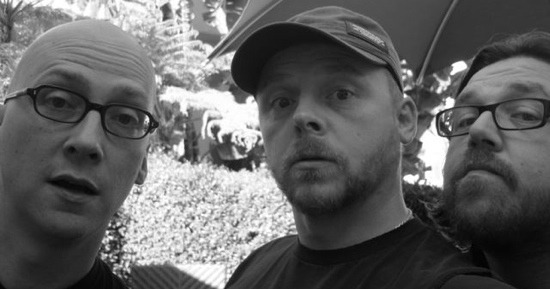 Peggster.com has some photos from rehearsals for Greg Motolla's Paul. The film begins shooting in June.
We haven't posted a Page 2 news roundup since last week due to the slow holiday week and the website redesign. We've finally collected enough material, but be warned — some of the tidbits below might be a few days older than normal. 35 news tidbits not fit for the front page, available after the jump.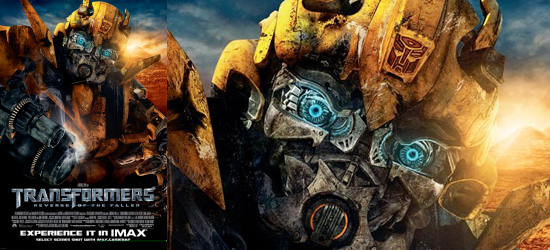 IMAX has released a poster for Transformers: Revenge of the Fallen featuring Bumblebee. Click on the image above to see the full poster.
Indian composer A.R. Rahman, who won an Oscar and a Golden Globe for his Slumdog Millionaire score, has signed on to compose the score for Couples Retreat, which reteams Vince Vaugnn and Jon Favreau. [playlist]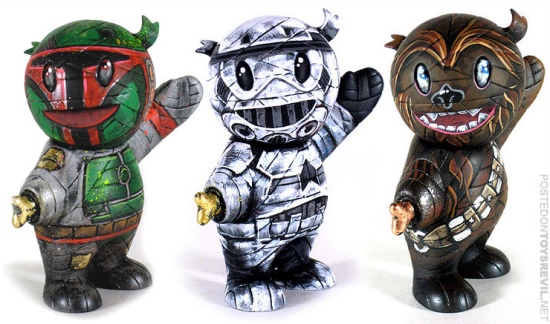 Leecifer's Star Wars MummyBoy customs are pretty damn cool looking. [toysrevil]
On Thursday, Stan Bush's "The Touch" (from the Transformers Animated movie) will be available as a free download on Guitar Hero World Tour. [tfw2005]
ThePlaylist has a look at the upcoming soundtracks for The Hangover, Public Enemies, and I Love You, Beth Cooper.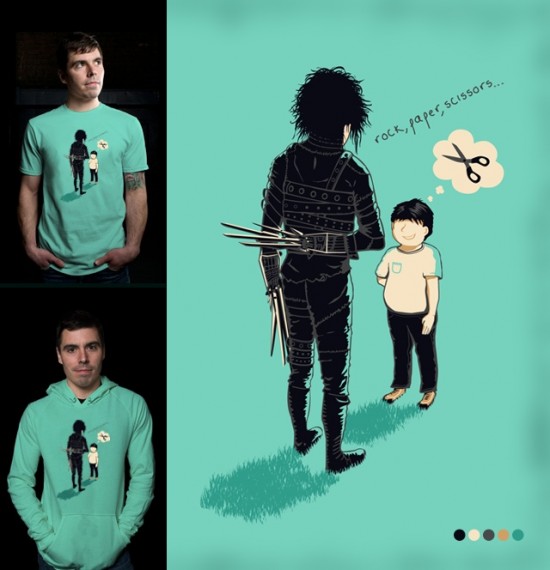 I absolutely love Chippos' This Game Sucks T-Shirt design featuring Edward Scissorhands in a game of Rock, Paper, Scissors. Vote for it on Threadless, and maybe they'll actually print it.
Rejects lists 10 things they demand from Terminator 5.Dustin Hoffman has signed on to star opposite Paul Giamatti in indie drama Barney's Version, based on Mordecai Richler's final novel. [variety]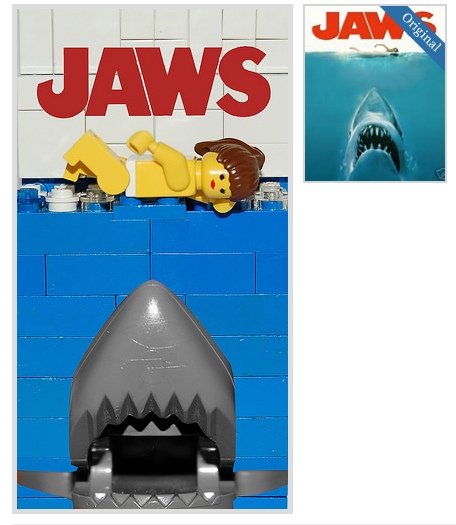 Speckboy has a round up of movie poster reproductions created using LEGO bricks.CHUD takes a look at how the evolution of the development of Terminator Salvation, and how it went wrong.Claudia Wells, the actress who played Jennifer in Back to the Future, is hosting a screening of the Back to the Future trilogy at the New Beverly Cinema on Friday, May 29 at 7:30pm. If I was in LA, I'd totally be there. [bttf.com]
Check out the trailer for Glendyn Ivin's Last Ride, an indie drama starring Hugo Weaving and Tom Russell. [quietearth]
The Transformers: Revenge of the Fallen viral marketing campaign has begun on sites TheRealEffingDeal.com and GiantEffingRobots.com. [FirstShowing]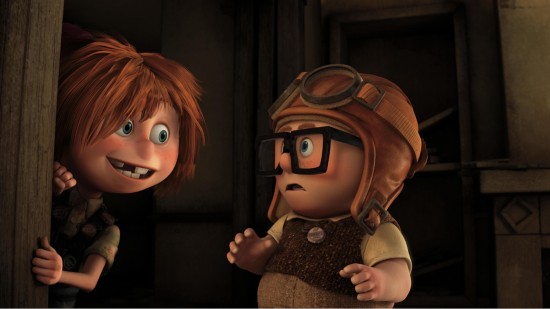 Buzz & Cie has 7 new photos from Pixar's Up.SpoilerTV has the official casting breakdown for a character named Hogun, who is a member of Warriors Three from Asgard, in Marvel's Thor: "Male. ASIAN / SOUTH EAST ASIAN / MONGOLIAN / EAST INDIAN. Late 20s to mid 30s. Grim, stoic, fearless. A man of few words who lives for battle...SUPPORTING."
The 2009 MTV Movie Awards will honor Ben Stiller with the MTV Generation Award. [PRN]
Shia LaBeouf has mad his directorial debut with a music video for a rapper named Cage.Michael Bay has admitted that his media fued with director McG was all for show: With a wink, he admitted that he phoned McG to turn up the volume. "I told him, 'We're like boxers going at it this summer,' " Bay said. "We have to have some fun with it." [LATimes]Vulture wonders what movie will the internet ruin next?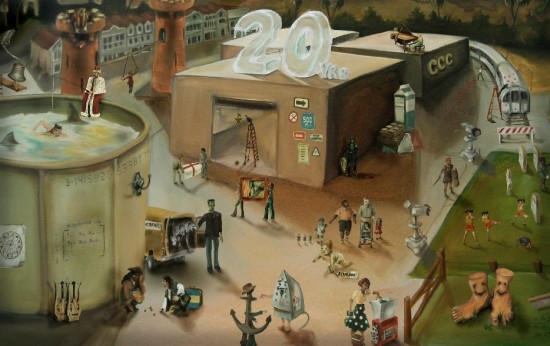 Check out Empire Magazine's Cryptic Canvas, a game that features 50 hidden movie references.
io9 has put together a timeline of all the dates of the expired cinematic futures.Bloody-Disgusting reports that Paul W.S. Anderson's Castlevania film adaptation is no longer happening.
The cast of Heroes Jizzed in their pants. [toplessrobot]
Al Pacino is in talks to star in You Don't Know Jack, a movie about convicted murderer Jack Kevorkian, the infamous advocate of doctor-assisted suicide. [THR]Joystiq says that Amaze Entertainment is working on a video game adaptation of Spike Jonze's Where the Wild Things Are.
You may have heard of Edith Macefield, an elderly woman who refused a $1 million offer for her house from developers planning to turn her block into a five-story complex (the same thing happens to Carl Fredrickson at the begining of Pixar's Up). Local Seatle publicits staged a promotion for Up, where they tied many balloons to the top of Macefield's home. As expected, the house did not fly away. Apparently when this photo was taken, most of the baloons had already popped. [seatlepi]
Oscilloscope has picked up Michel Gondry's documentary The Thorn in the Heart. [thr]
Welsh director Marc Price claims Colin, his zombie movie that recently premiered at Cannes, had a production budget of just $72. [filmdrunk]
Watch the teaser trailer for Alvin and the Chipmunks: The Squeakuel. Or don't....
AICN's Massawyrm thinks D-Box theaters seats might be worth the extra $8.Transformers: Revenge of the Fallen takes up 140 terabytes of computer memory at Industrial Light and Magic (the first film took up only 15 terabytes). [LA Times]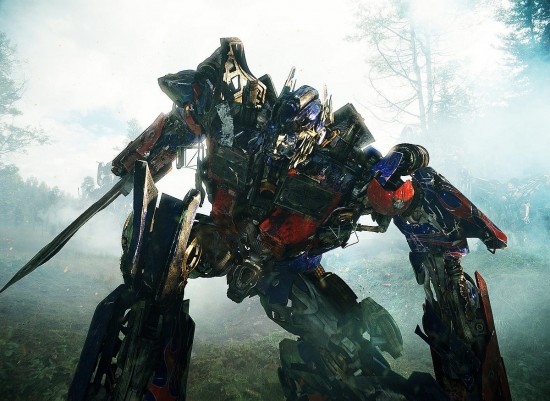 Paramount has released another new photo from Transformers: Revenge of the Fallen. Optimus Prime with a sword. ReelComix also has three new photos.
Crazies director Breck Eisner has dropped out of directing Universal's The Creature from the Black Lagoon remake. [bloodydisgusting]
Transformers: Revenge of the Fallen will have its United States premiere on June 22nd at the Los Angeles Film Festival. [indiewire]