Jonah Hill Promises R-Rated 21 Jump Street Movie: "Bad Boys Meets John Hughes"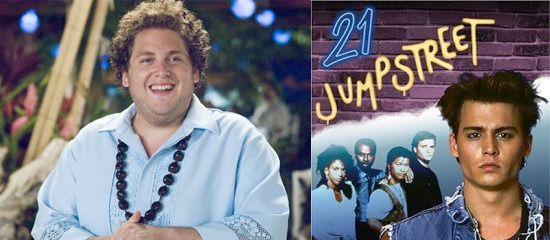 Last year, Jonah Hill became attached to write, executive produce, and possibly star in a movie adaptation of the popular 1980's television show 21 Jump Street for Sony. The original television series which starred Johnny Depp, focused on a group of young cops who went undercover in high schools and colleges. Many people assumed that Hill's take would be a comedic version of the original premise. But Hill promises that the film isn't necessarily what you might expect.
"[Sony execs said] they were gonna let me make my kind of movie—an R-rated, insane, Bad-Boys-meets-John Hughes-type movie—and I told them the second they don't, I'm not gonna be involved anymore," Hill tells Complex. "We're not even spoofing the movie. It's not strictly comedic, either. We're doing a full-on action movie, blowing shit up."
Sounds good to me. But then Hill went on to describe a scene from the opening episode of 21 Jump Street where "you see a man looking at a picture of a cop holding a little boy's hand, and you hear a crazy saxophone solo, and you pan up and it's Johnny Depp looking at the picture playing the crazy saxophone solo." The way the interview reads, it sounds like Hill is saying that his version won't be any more comedic or cheesy than what he believes the original series was like. And that seems a little but worry-some.
I never was a fan of the original television series, and I don't really care how much a big screen movie honors or dishonors the memory of the show. I only hope that whatever film results is half-way decent. But even Hill's phrasing ("they WERE gonna let me") leads me to believe there is a very good chance this project will fall into development heck.