John Lithgow Joins Dexter, 24 Casts Two More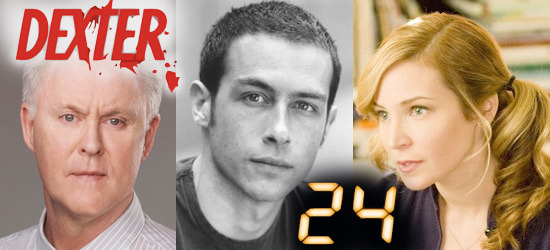 Entertainment Weekly is reporting that John Lithgow is joining the Season 4 cast of Dexter and The Hollywood Reporter has word that  Jennifer Westfeldt and John Boyd have joined the cast of the eigth season of Fox's 24.Full details after the jump.
In Dexter, Lithgow would be playing Walter Simmons, (possible spoilers ahead – highlight the invisotext to reveal) an unassuming suburbanite serial killer named Trinity Killer (because he always kills in threes) who relocates to Miami. Dexter becomes obsessed with "his efficient killing methods and ability to evade capture for almost three decades." Sounds like Lithgow is the antagonist for the fourth season.
In 24, Boyd (The Notorious Bettie Page) will play Jonah Schwartz, one of the new systems analysts at CTU. Westfeldt (Kissing Jessica Stein) will play Meredith Reed, an ambitious journalist with ties to Arman Hashemi (Anil Kapoor), a Middle East leader on a US peacemaking mission.
Season 8 will be set a year-and-a-half to two years after Day 7 in New York City, and would include the reformation of a "more budget-conscious" CTU, complete with new leader. Season Eight begins production this week.