The Truth About Pixar's Brave And Ronnie Del Carmen's Short Film Details Revealed

Last week, Up director Pete Docter made a slip mentioning a Pixar film titled "Brave" during an interview. Many people speculated that the film is the short which will be attached to Toy Story 3. Brendon guessed that it might be a remake/adaptation of The Brave Little Toaster, a film Disney/Pixar head John Lasseter was originally developing as a computer animated feature film at Disney many years ago.
The Pixar Blog's sources claim that Brave is actually just the internal name for Pixar's previously announced Winter 2011 feature film The Bear and the Bow. From acclaimed filmmaker/writer Brenda Chapman (The Prince of Egypt) comes Pixaer's first fairy tale. The film stars Reese Witherspoon as the "impetuous, tangle-haired Merida, though a daughter of royalty, would prefer to make her mark as a great archer." Her character is apparently the "brave" character referred to in the internal title.
"A clash of wills with her mother compels Merida to make a reckless choice, which unleashes unintended peril on her father's kingdom and her mother's life. Merida struggles with the unpredictable forces of nature, magic and a dark, ancient curse to set things right."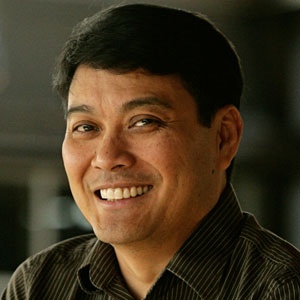 Previously we've told you about, shown you photos and video from Pixar's short film Partly Cloudy, which is attached to Up. But as many of you know by now, for every Pixar feature film, the animation studio produces two short films – one for the theatrical film and the other for the DVD release (the DVD release short is always a spin-off using characters from the feature).
SciFi Wire has learned that the short film attached to the DVD/Blu-ray release of Up is called Dug's Special Mission. The film, directed by Pixar story/character designer Ronnie del Carmen (photo right), gives us a little bit of backstory on Dug the talking dog, and follows him on the "mysterious mission" that explains what he was doing when Carl and Russell discover him in the film. So it's sorta kinda a prequel.