Get Him To The Greek Set Footage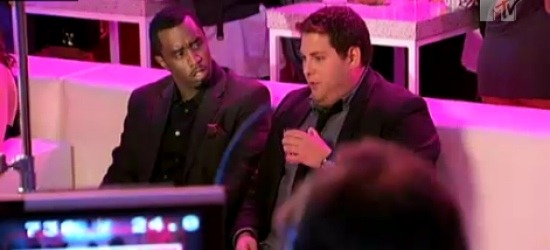 MTV got a chance to visit the set of the Forgetting Sarah Marshall spin-off, Get Him to the Greek. The story, written and directed by Nicolas Stoller, follows a fresh-out-of-college record company intern named Aaron Greenberg (Jonah Hill) who is assigned the job of transporting an out-of-control rock star named Aldous Snow (Russell Brand, reprising his role from Sarah Marshall) from London to a gig at Los Angeles' famous Greek Theater.
I've embedded footage below of Brand giving a tour of the set, where we get to see the behind the scenes antics as Hill shoots a scene with and his angry record company boss Sergio (played by Sean "P-Diddy" Combs) in a club. Watch the clip after the jump.
Get Him to the Greek will hit theaters in April 2010.