Is The New Toy Story 3 Character Named Lotso?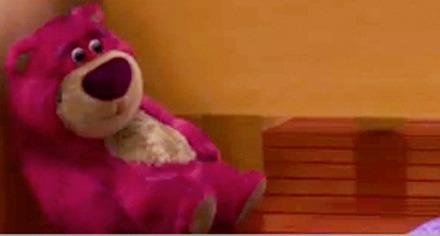 A couple weeks ago we told you about the new character from Toy Story 3 that was hidden in a shot of Pixar's Up. It was the cute cuddly teddy bear under the bed of a child who is watching Carl's house fly by her apartment window. We now have some new details.
UpcomingPixar points us to a post on Pixar Collector which claims the character's name is Lotso, and that he's got a HUGE part in the film. I'm not sure is this is true, but a /Film reader left a comment last week which may help corroborate the story. The /Film commenter gave the same character name and claims that he's the bad guy in the new film.
It would make sense. Pixar loves to play against type, and making a big cuddly pink teddy bear the villain would be pure genius.