First Look: M Night Shyamalan's The Last Airbender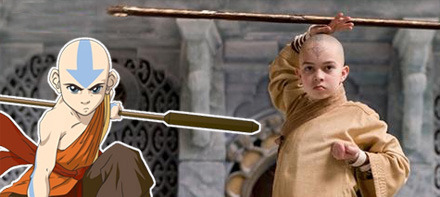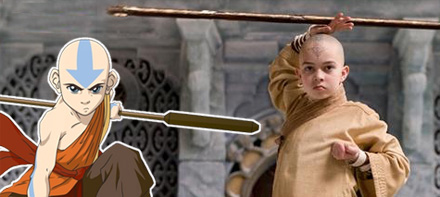 Paramount Pictures has released the first photos from M Night Shyamalan's The Last Airbender in Friday's issue of USA Today. Above is the first photo of Aang (Noah Ringer), the "Last Airbender," a 12-year-old regional karate star was who discovered in a Texas open casting call. After the jump we've also included a tv to film comparison of Dev Patel as Prince Zuko.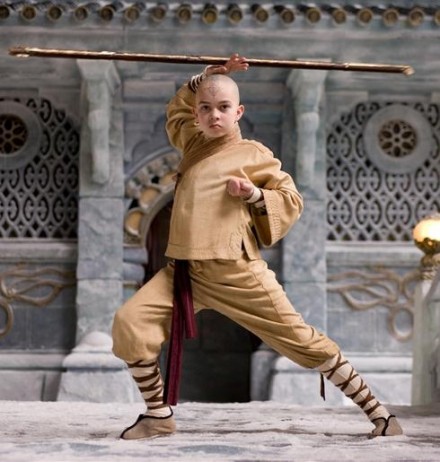 Based on the hugely successful Nickelodeon animated TV series, the live-action feature film is set in a world where human civilization is divided into four nations: Water, Earth, Air and Fire.
The Fire Nation is waging a ruthless, oppressive war against the other three nations. The film's hero, the reluctant young Aang, is the "Last Airbender" — the Avatar who, according to prophecy, has the ability to manipulate all of the elements and bring all the nations together. Aided by a protective teenage Waterbender named Katara (Nicola Peltz) and her bull-headed brother Sokka, Aang proceeds on a perilous journey to restore balance to their war-torn world.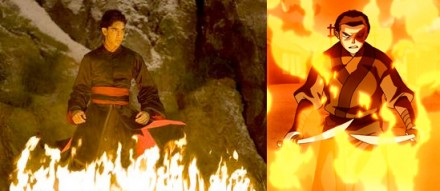 The article has a few interesting tidbits about the film's two main stars:
Ringer's nickname at school was "Avatar" because many people thought he looked like the character that he now plays in the movie.
Slumdog Millionaire star Dev Patel, who plays Prince Zuko, prince of the Fire Nation; earned his black belt in tae kwon do before getting into acting, and started watching the animated television series while filming Slumdog.
The teaser trailer will be attached to Transformers: Revenge of the Fallen. The Last Airbender is set to hit theaters on July 2nd 2010.
Discuss: What do you think of the first photos?