Rian Johnson Releases MP3 Audio Commentary For The Brothers Bloom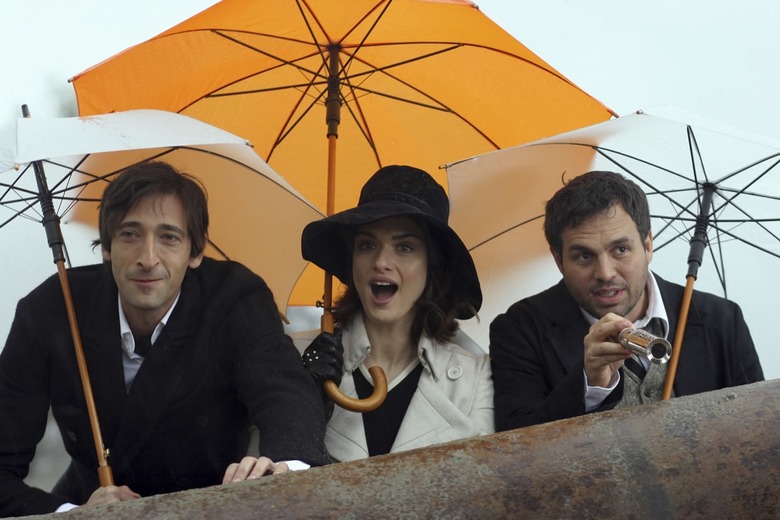 Rian Johnson has recorded an online exclusive audio commentary for his new film The Brothers Bloom, which hit theaters in New York and Los Angeles last week, and expands further nationwide tomorrow.
You can download the track now on Apple.com. The idea is to load the mp3 file onto your ipod, iphone or zune (wait, does anyone really have a Zune?) and listen to the track while watching the film at your local multiplex. There are instructions at the beginning of the recording for when to pause / unpause, and if all goes well you will have a live commentary track playing along with the movie.
Of course, you don't want to do this on your first viewing (I wouldn't reccomend listing to any audio commentary as a first viewing). The brilliant thing about this idea from a marketing  is that it encourages multiple theatrical viewings.
Johnson writes: "The track itself is obviously spoiler-heavy, I obviously wouldn't recommend it for a first viewing.  It's also (to be honest) pretty dry and process-intensive, I go on at length about obnoxious stuff like symbolic color schemes, so if that doesn't sound appealing, steer clear.  The (totally different) commentary I recorded for the DVD is much more easygoing."
Johnson isn't the first director to come up with the idea to release an audio commentary on MP3 for a theatrical release. I believe that distinction goes to Kevin Smith, who planned to release a commentary track for Clerks 2 on his website. If I remember correctly, The Weinstein Co nixed the idea after theater owners became concerned that commentary listeners would be laughing at inappropriate moments during public screenings.
For a full list of theaters that The Brothers Bloom will be playing this week, head on over to this article. Johnson will also be doing Question and Answer sessions ar select screenigns in in San Francisco, Chicago, Washington and Dallas (click on the previous link for more information).