/Filmcast Ep. 51 - Angels And Demons (GUEST: Laremy Legel From Film.com, Dan Trachtenberg From The Totally Rad Show)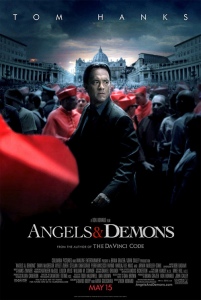 In this episode of the /Filmcast, David Chen, Devindra Hardawar and Adam Quigley dive into the season finale of Lost, evaluate the acting prowess of Chris Hemsworth, and lament the destruction of the IMAX brand. Special guest Laremy Legel joins us from Film.com and Dan Trachtenberg joins us from the Totally Rad Show. Make sure you stay tuned after the episode to hear details on how to win a copy of The Art of Terminator Salvation from Titan Books!
You can always e-mail us at slashfilmcast(AT)gmail(DOT)com, or call and leave a voicemail at 781-583-1993. Join us next Monday at 9PM EST as we review Terminator Salvation.
Download or Play Now:
Subscribe to the /Filmcast:
Shownotes
Introduction
What Have We Watched

Adam and Dan (7:00): Lost
Laremy (26:15): In The Loop, We Live In Public, The Girlfriend Experience
Devindra (28:38): The Man from Earth, Chuck (Renewal)
David Chen (33:00): The Brothers Bloom,
News Discussion

Featured Review
(63:50) Angels and Demons
Credits
A big thanks to our sponsor, Bonaroo.co.uk (use the code "filmcast" for free shipping to the U.S.!)
Contact us at our new voicemail number: 781-583-1993
You can donate and support the /Filmcast by going to www.slashfilmcast.com and clicking on the right-hand side "Donate" links!