Nickelodeon Orders Monsters Vs. Aliens Television Pilot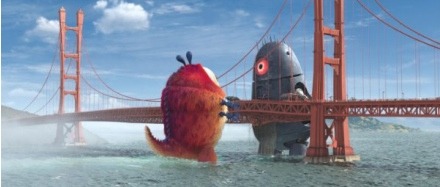 Last week when we reported that after the success of the Madagascar Penguins spin-off tv show, Nickelodeon had picked up an animated television series based on DreamWorks Animation's Kung Fu Panda. In the comments someone joked that, at very least, Monsters vs. Aliens wouldn't be coming to the small screen. That commenter obviously spoke too soon.
The kids network has ordered a pilot for a Monsters vs. Aliens television series. I'm not surprised, and actually believe this is a much better idea. First of all, the concept allows for a lot of small screen stories, and unlike Panda, which was critically acclaimed by many as the only DreamWorks film which neared Pixar quality, I don't believe it will water down the name brand and prevent future feature film sequels. I mean, I don't think anyone was looking forward to a Monsters vs. Aliens 2.
source: THR