Joe Cornish To Attack The Block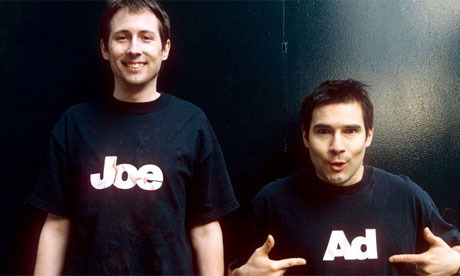 Joe Cornish is lining up his directorial debut for Film4. Attack the Block is going to be a "teen action film" about South London hoodies forced to set up to save the day when aliens attack". Film4 previously developed Shaun of the Dead, before the film was eventually carried into production by Working Title, and I can imagine this film will have a similar tone in many respects.
Indeed, Cornish has written with Shaun's Edgar Wright before, on both the Tintin screenplay and Wright's in-development Ant Man. His day job, or at least the role for which he is still best known in the UK, is as the Joe half of Adam and Joe, teaming up with Dominic Frisby-alike Adam Buxton to present radio shows and, back in the day, spoof movies with stuffed toys and the like.
Screen Daily don't have a shoot date for Attack the Block listed in their announcement. Hopefully it will be sooner rather than later because I want to see if Cornish can walk the walk as well as he can talk the talk.
If you don't know what a hoodie is – and most of you probably won't – you might go to the Urban Dictionary or somewhwere like that to look it up. In the context of this film it definitely doesn't refer to the sex act, or to the item of clothing but to the type of kid that wears that clothing. You might even want to listen to Lady Sovereign's Hoodie to get some kind of idea what music made by hoodies, for hoodies, about hoodies sounds like. Sounds like it might kill the aliens, a la Mars Attacks.
Interestingly, Joe has recently professed his love of Ole Bornedal's brilliant, brilliant The Substitute on the Adam and Joe 6 Music show. He described it as an alien film for kids. I wonder what influence, if any, it has had on his work here. Maybe he was looking to get feedback on how the audience reacted to this recommendation, to take the cultural temperature and thereby steer his film accordingly.
The film was originally mentioned on the Channel 4 Statement of Programme Policy. With Film4 backing and such an intriguing debut director lined up I'd imagine it will get a big cinema release, even though Channel 4 have taken to premiering some of their best films – the Red Riding Trilogy for example – on their TV station here in the UK.