Peter Berg To Direct Battleship, Could Robert Pattinson Be A Shipmate?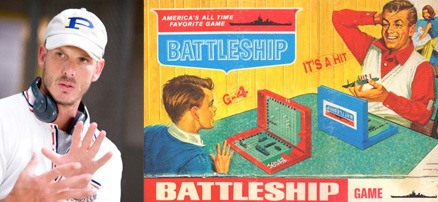 Peter Berg is in talks to direct a big screen adaptation of Hasbro's board game Battleship for Universal Pictures. Brother screenwriting team Jon and Erich Hoeber have signed on to write the script, which is said to be "an epic naval action adventure" loosely inspired by the game.  Universal seems to have a multi-picture development deal with Hasbro/Milton Bradley.
Twilight star Robert Pattinson, while on break from shooting New Moon, was spotted last week leaving Berg's Los Angeles home. At the time, many speculated that Pattinson might be in talks to join Berg's planned remake of Dune, but Berg has so many projects in the development pipeline that it would be impossible to narrow it down to one of them. And it would be too speculative for me to say that Battleship is probably the film.
Actor turned filmmaker Berg has directed Very Bad Things, The Rundown, Friday Night Light, The Kingdom and Hancock. The Hoeber brothers recently adapted the comic book action thriller Whiteout, Warren Ellis' Red, and an adaptation of the video game American McGee's Alice, which is likely in development heck.
There are two reasons for a Hollywood movie studio to make a film adaptation of a popular property. The first is the more logical — So many people have connected with the story or concept that it will likely translate into a feature film. The second reason is that the brand name means so much to so many that it could be leveraged to attract an audience to a film people might not otherwise see. This is why the recent trend of board game movie adapatation deals is quite baffling to me.
For instince, a Stretch Armstrong movie isn't likely to attract many people who played with the toy as a kid, and the "action figure" doesn't possess a story of any real value. A studio could easily make a movie about a guy whose arms and legs stretch without having to purchase the probably expensive rights to the Stretch Armstrong name.
I just don't understand how the brand name Battleship would attact aditional people to a Berg-directed epic naval action adventure film. It seems to me that if the story was good enough, the film could easily function without the board game adaptation title. Plus, I would think that the goofiness that comes with using a board game title must hurt the marketing of a film more than help it.
Side Note: I just noticed after creating the photo above that the old 1967 box art featured the mother cleaning dishes in the background with her daughter (the implication is that the Kitchen and cleaning is "their place/thing"), as the father has fun with his son in the dining room. Wow, just wow.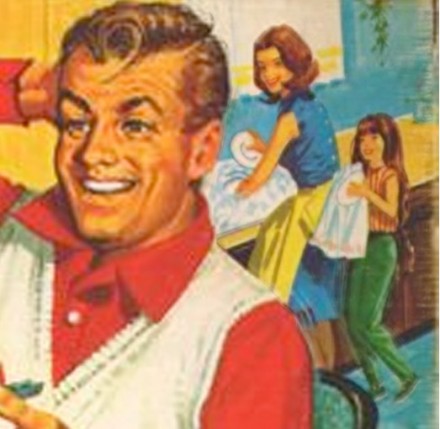 source: THR