Early Buzz: Terminator Salvation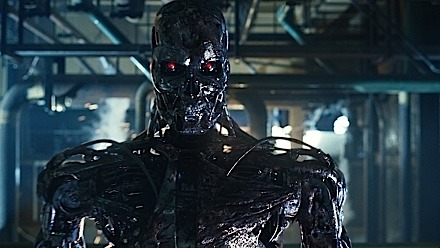 The first official reviews of McG's Terminator Salvation have hit over the weekend in the Hollywood trade newspapers and a college website. Variety and College Times say it's a fun summer action film (not transcendent of the first two films, obviously), but The Hollywood Reporter borderline HATED it. I've included spoiler free excerpts from the three reviews after the jump.
Variety: "[McG] exhibits an unexpected flair for the dreadful, abrupt and awesome." ... "Darker, grimmer and more stylistically single-minded than its two relatively giddy predecessors, "Terminator Salvation" boasts the kind of singular vision that distinguished the James Cameron original, the full-throttle kinetics of "Speed" and an old-fashioned regard for human (and humanoid) heroics." ... "McG's direction is always intelligent." ... "The script by John Brancato and Michael Ferris occasionally goes off the rails."The Hollywood Reporter: "The machines rise to the occasion. Too bad the dramatic element's just as robotic." ... "there's little sign of life where the flatly executed human component is concerned." ... "It's just not the same without the Governator."College Times: "Terminator: Salvation is still a good entry and a marked improvement over its third predecessor that may not exactly set the sci-fi genre ablaze with its effects or plot line but progresses the saga in an interesting direction with good action to boot." .... "definitely big and spectacular as an action sci-fi movie, yet it lacks the punch and complete terror that came with the first two entries." ...  "a competent, summer action movie that, much like all good reboots, pleases the fan base while attracting a wider audience.  It does not exactly innovate the Terminator name beyond what is already accomplished as it relies on series old themes and not exactly helped by the dearth of character development for most of the characters, some odd exposition work, lack of cohesive editing, and odd ending sequence, but it does bring up some interesting ideas about where the series could go." ...  "*** out of *****"